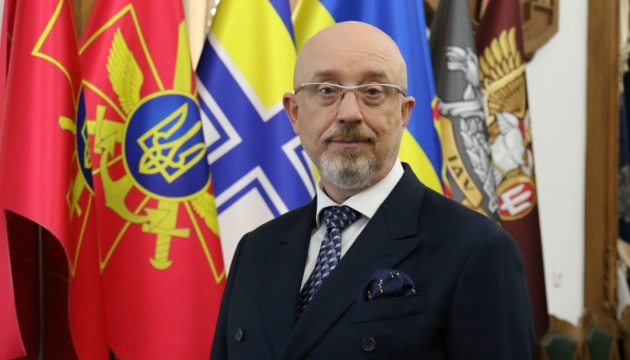 Reznikov: Strong army is one of most powerful diplomatic arguments
A strong army is one of the most powerful diplomatic arguments in the peace process.
"The Armed Forces of Ukraine are 30 years old. I sincerely congratulate everyone on this anniversary! I strongly believe that if it were not for the Armed Forces of Ukraine, we would hardly celebrate the 30th birthday of our state on August 24 this year. For a quarter of our modern history, our soldiers with weapons in their hands, risking their lives, have been defending our Motherland from the Russian aggressor every day," Defense Minister Oleksiy Reznikov said in his congratulations on the Day of the Armed Forces of Ukraine, Ukrinform reports.
He reminded that the Armed Forces have been the mainstay of statehood and the main factor of national security since 2014.
"From the own experience of a negotiator, I can say that a strong army is one of the most powerful diplomatic arguments in the peace process," he said.
According to Reznikov, today Ukrainians trust their army more than any other social institution: "This testifies respect of the Ukrainian people for their soldiers, who today, in a real combat situation, continue with dignity the glorious traditions of previous generations of defenders and defendresses of Ukraine."
"The right to live with our own mind in our own home comes at a great price! Thousands of Ukrainian service members gave their lives to stop the enemy. These are the best sons and daughters of Ukraine, and our people will always remember their feat. Eternal glory to them!" Reznikov added.
He also noted that three quarters of its modern history, our army has existed in a dismantling mode, interrupted by several reform attempts. The state did not understand why it should be strong. "The enemy showed us why we need an army and what happens when you don't take care of it. Not every nation has such a privilege as its own army. No wonder the army is a symbol of statehood and the state as such. Sovereign. Independent. Army modernization protects the right to one's own state and the right to choose the future for descendants," the defense minister stressed.
"I will personally make every effort to ensure that the Ukrainian army is constantly developing, increasing its capabilities, fulfilling its honorable mission with dignity! Congratulations on the 30th anniversary of the Armed Forces of Ukraine!" the minister summed up.
As reported, Ukraine marks the Day of the Armed Forces of Ukraine on December 6. It was on this day in 1991 that the Verkhovna Rada passed the laws on the defense of Ukraine and on the Armed Forces of Ukraine.
ol