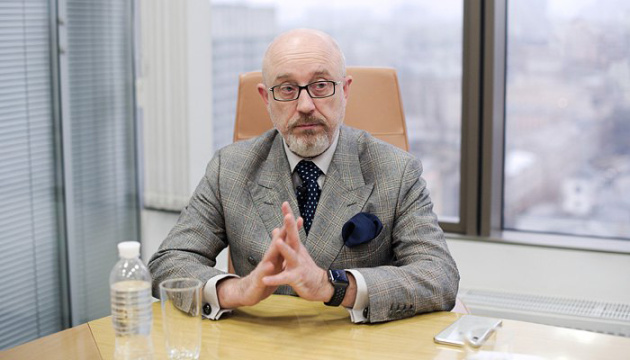 Russians sowing panic among own audiences to justify possible aggression against Ukraine - Reznikov
The narrative of the Russo-Ukrainian escalation threat is part of an information war, aimed including at Russia's domestic audience.
That's according to Ukraine's Defense Minister Oleksiy Reznikov who spoke at a panel show on 1+1 TV, an Ukrinform correspondent reports.
"Since 2014, a hybrid war has been going on. The hybrid war has various manifestations, including the information war as one of its main elements, and now we're seeing yet another deployment, another escalation, first of all, of the information war," Reznikov said.
The minister pointed out that all the messages voiced by the Kremlin's mouthpieces are aimed at their domestic audiences.
"Today, they are creating hysteria among their population, among the Russian people, in order to be able to justify possible aggression they may decide to pursue," Reznikov said.
The minister of defense also believes that today the democratic world is being tested for resilience and ability to repel Russia's aggressive policies.
"NATO is undergoing a stress test, the European Union is undergoing a stress test, which started off in Lithuania, then continued in Poland. They are generally testing the world's resilience, and I agree that this is a 'dance invitation' for (U.S. - ed.) President (Joe - ed.) Biden. This doesn't mean we should relax, but there should be no panic because it is a test of our country's national stability, "Reznikov stressed.
According to Ukraine's defense chief, the purpose of the information campaign unleashed by Russia is to destabilize Ukraine and force the country to shift its foreign policy course through a change of a legally-elected government.
Reznikov also recalled that Ukraine is constantly consulting and negotiating with international partners to achieve assistance in confrontation with Russia.
"Both British and American counterparts have assured me of their readiness to help, and I am now consulting with other defense chiefs of friendly countries so that we receive support in the near future. Unfortunately, I can't tell the details of these talks, but I came back with an optimistic mood about technical support, expert support, and the equipment we need," Reznikov said.
As Ukrinform reported earlier, Ukraine has filed an application for specific assistance needed from the United States in the field of security and defense – the issue that was discussed during Reznikov's recent visit to the U.S. He met with the U.S. Congressmen, held talks with the Secretary of Defense at the Pentagon, as well as with senior State Department officials and other decision makers.