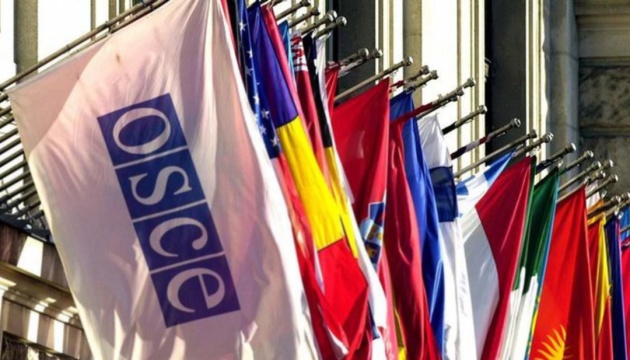 Ukraine at OSCE: Russian invasion not ruled out
The Ukrainian side does not rule out that the Russian leadership will decide on a full-scale military invasion of Ukraine in view of Moscow's recent actions combined with hostile anti-Ukrainian rhetoric.
That's according to a statement delivered by Ukraine's Mission to the OSCE, delivered at the meeting of the Forum for Security Cooperation on Wednesday, November 24, and heard by an Ukrinform correspondent.
Taking into account all the recent actions of the Russian side, combined with its hostile rhetoric towards Ukraine and other countries, which is manifested at all levels, we do not rule out the possibility of the Russian leadership deciding on a military invasion, Ukraine's Mission said.
Ukrainian diplomats pointed out that Russia had deployed 92,000 troops along the border with Ukraine with no adequate explanation of such a move provided. At the same time, the situation in the conflict zone in eastern Ukraine is developing in line with a dangerous trend, as against the background of intensified ceasefire violations by Russian armed formations, Russia has also boosted arms and ammo supplies to the temporarily occupied areas of Donetsk and Luhansk regions.
It was also pointed out that on November 15, the Russian occupation administrations in Donetsk and Luhansk regions kicked off exercises involving "reservists," and on November 22, large-scale command and staff drills were launched in formations and units of the 1st and 2nd Army Corps (AK), involving reservists, units of "law enforcement agencies," and occupation administrations. The exercises are being supervised by the joint commission of the 8th army of the southern military district of the Russian armed forces.
In addition, the occupation administrations put forward a proposal to officially allow taking Russian citizens for contracted military service in 1st and 2nd Armed Corps.
Ukraine has strongly condemned such actions by the Russian side aimed at drafting Ukrainians in the temporarily occupied territories for military service in the occupation forces. Such actions are a gross violation of international humanitarian law and do not contribute to deescalation in Donbas. Russia must cease such practices immediately, the Ukrainian Mission said.
The Mission of Ukraine to the OSCE called on the Russian Federation to deescalate the situation and to engage in constructive dialogue within the framework of existing mechanisms for maintaining international peace and security, including within the OSCE.
As Ukrinform reported earlier, the head of the Main Intelligence Directorate of the Ministry of Defense of Ukraine, Kyrylo Budanov, said Russian invasion could kick off in January-February from several directions: from the areas of the eastern borders (both controlled and non-controlled by Kyiv), as well as from Crimea and via Belarus.
im