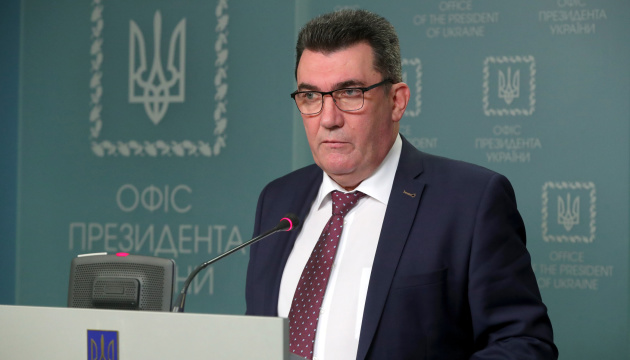 Danilov on build-up of Russian forces: Kremlin trying to raise the stakes
Russia, by building up its troops along Ukraine's border, is trying to raise the stakes ahead of upcoming talks, Secretary of the National Security and Defense Council Oleksiy Danilov has said.
He said this at a meeting of the Ukrainian delegation with representatives of the U.S. Senate at the Halifax International Security Forum, the council's press service reported.
According to Danilov, the parties paid special attention to the amassing of Russian troops near Ukraine.
"By sending troops to the Ukrainian border, Russia is trying to aggravate the security situation in the region as much as possible to raise the stakes at the negotiating table," Danilov said.
According to him, Russia's recent actions, including the publication of sensitive diplomatic documents by the Russian Foreign Ministry and the testing of the latest missile defense systems on its own satellites, "suggest that there are already no rules for them."
Danilov assured the U.S. side that Ukraine will not allow a repeat of the situation in 2014 and will be able to give an adequate response to the aggressor country.
At the same time, he stressed that the Russian leadership "understands only the language of force," so it is important for Ukraine to have the support of partners, especially the United States, Canada, and the United Kingdom.
Danilov thanked the U.S. side for the assistance provided to Ukraine, including in the military sphere, noting that "real support and assistance cannot always be measured in money." "Joint military exercises and the work of foreign military instructors in Ukraine, in addition to the supply of weapons and countermeasures in the information space, help get a cumulative effect," he said.
Deputy Head of the President's Office Roman Mashovets, in turn, noted that military equipment and weapons play an important role at the tactical level. At the same time, in his opinion, U.S. sanctions against the close entourage of Russian President Putin and related companies, counteracting information and cyber attacks by Russia are equally important.
According to the report, the issue of launching the Nord Stream 2 gas pipeline was also raised at the meeting. Danilov reiterated that this project is not economic: "It is Russia's energy weapon against Ukraine and the whole of Europe."
The U.S. side said that the United States' bipartisan support for Ukraine on its path to restoring territorial integrity and sovereignty over the temporarily occupied territories remained unwavering, adding that the U.S. is ready to continue to provide Ukraine with the necessary assistance to counter Russia's hybrid aggression.
Kyrylo Budanov, head of the Main Intelligence Directorate of the Ministry of Defense of Ukraine, said earlier that Russia had amassed more than 92,000 troops along Ukraine's borders and is preparing for an attack by the end of January or beginning of February.
op