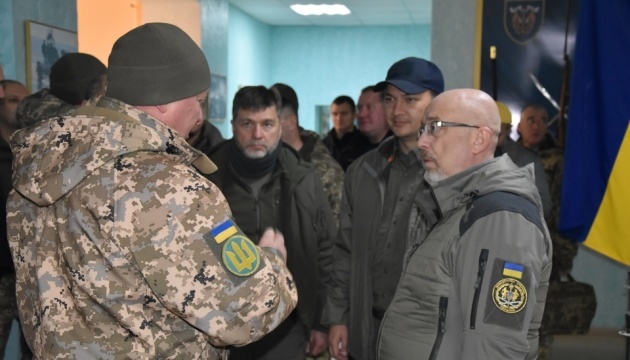 Reznikov: "We will return to internationally recognized borders of Ukraine in Crimea, Donbas"
Defense Minister Oleksiy Reznikov is convinced that the Armed Forces of Ukraine will eventually regain territories up to the internationally recognized borders of Ukraine in Crimea, as well as in Donetsk and Luhansk regions.
That's according to the defense ministry's press service, Ukrinform reports.
The statement came as Reznikov, together with Army Commander-in-Chief Valeriy Zaluzhnyi, visited the Marine Command, the 198th Naval Training Center, the Spec-Ops Forces Maritime Center, and the Namyv Naval Base in Mykolayiv region.
It is noted that the two top defense officials discussed with Marines Commander Yuriy Sodol the prospects of infrastructure development as regards the units and formations of this type of troops.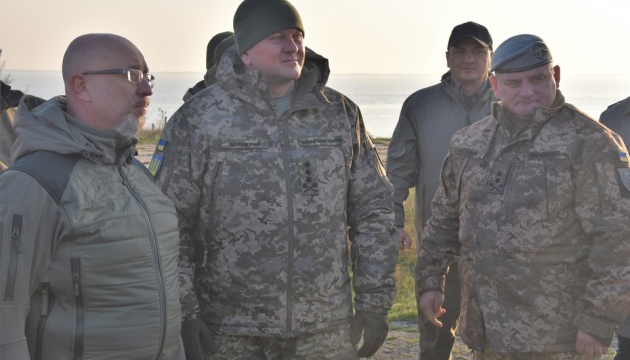 At the 198th Naval Training Center, Reznikov and Zaluzhnyi were shown a survival training ground.
Reznikov referred to the Ukrainian Marines as "motivated professionals." According to the newly-appointed minister, Ukraine's Armed Forces is comprised of professionals who ensure the country's defense. "Together we will do everything to make Ukraine free and independent. We will get to our internationally-recognized borders, in both Crimea and Donbas," the defense minister stressed.
The members of the working group were also briefed on the training routine of speedboat crews at the 73rd Maritime Center of the Special Operations Forces on the Island of Maisky. Spec-ops servicemen and Ukrainian "Seals" are trained there, developing capabilities of the SOF's naval component.
As noted, the defense chief and the Army commander-in-chief also studied a perspective plan of development of the Namyv Main Naval Base in Ochakiv district (Mykolayiv region).
im