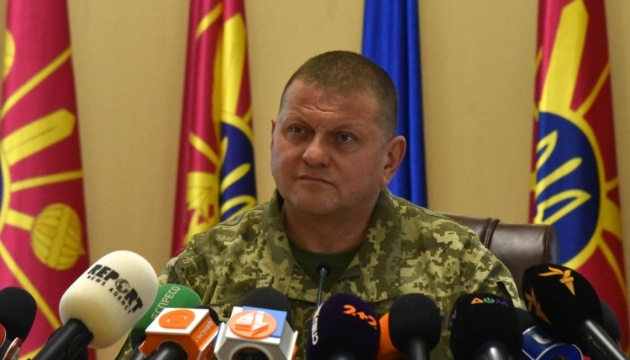 Ukrainian Army Commander says expansion of Russia's military aggression not ruled out
During the opening of the 5th multinational annual conference on improving the training of sergeants in Ukraine under the NATO DEEP (Defense Education Enhancement Program), the Commander-in-Chief of the Armed Forces of Ukraine, Lieutenant General Valery Zaluzhnyi, said he could not rule out the further spread of military aggression on the part of Russia.
Therefore, the Armed Forces must be prepared to respond to threats, Ukrinform reports referring to the press service of the Ministry of Defense.
"The Armed Forces of Ukraine and the Ukrainian people are in a rather difficult situation. The war continues. Unfortunately, our soldiers continue to die and get wounded. The war requires great moral and physical strength on the part of the Armed Forces of Ukraine. We don't rule out the possibility that military aggression may spread. The Armed Forces of Ukraine must be ready to respond to this type of aggression. Again, this is about a serious moral and physical effort by both the military and the entire nation," the commander-in-chief of the Armed Forces stressed.
The press service has noted that about 50 officials representing NATO member states and partners, as well as the Alliance's governing bodies, are taking part in the sergeant training conference. The meeting is chaired by Mariusz Solis, Head of the NATO Defense Education Enhancement Program (DEEP) of the NATO International Staff, while Ukraine is represented by Oleksandr Kosynsky, Chief Master Sergeant of the Armed Forces, Head of the Sergeant Service (co-chair).
Zaluzhnyi also said that, since the onset of the war, Russia has been conducting a massive psy-op, primarily aimed at compromising the Armed Forces of Ukraine and the incumbent government.
"Despite everything that is happening, we remain free in spirit. We are developing and will continue to develop in a civilized direction. And the issue of military education in this context is extremely important," Zaluzhnyi stressed.
As noted, an event of such magnitude is evidence of Ukraine's significant progress in building a professional sergeant corps. The conference will discuss aspects of sergeant education for its further long-term development, taking into account the Alliance's experience and best practices.
im