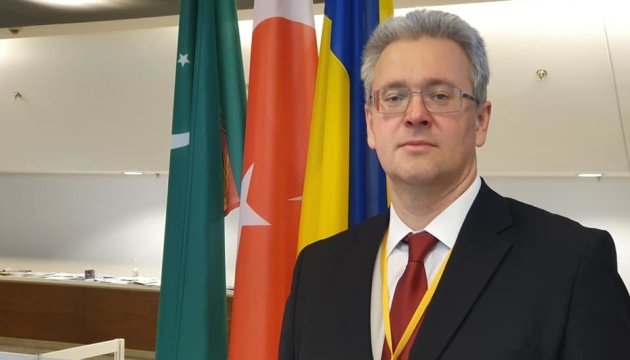 Ukraine at OSCE raises issue of journalists illegally held in occupied Crimea
Ukraine has called on the OSCE member states and the OSCE Office for Media Freedom to facilitate the release of all civic journalists and other media professionals illegally held in the temporarily occupied territories of Ukraine.
This was stated by Ukraine's Permanent Representative to international organizations in Vienna, Yevhenii Tsymbaliuk, who spoke at a meeting of the OSCE Permanent Council in Vienna on Thursday, Ukrinform's own correspondent reported.
"The Russian occupation administration continues to persecute and repress free journalism. Civic journalists and other media workers are persecuted and imprisoned for their civic stance and journalistic work," Tsymbaliuk said in a statement marking the International Day to End Impunity for Crimes against Journalists.
The chair of Ukraine's mission to the OSCE recalled that among the illegally held journalists are Vladyslav Yesipenko, Nariman Dzhelyal, Server Mustafayev, Timur Ibragimov, Marlen Asanov, Seyran Saliyev, Remzi Bekirov, Ruslan Suleimayev, Osman Arifmetov, and Rustemov Ristem Ameykha -Usein.
In order to draw additional attention to the persecution of journalists and violations of freedom of expression by the Russian occupation administration in Crimea, the Ukrainian Foreign Ministry has launched an initiative to protect civic journalists, illegally held by Russia, involving international foreign public figures.
The diplomat has encouraged OSCE member states to support the initiative to facilitate the release of all illegally held civilian journalists and media professionals in the temporarily occupied territories of Ukraine. He said the Mission also expected assistance in this "crucial issue" on the part of an OSCE Representative on Freedom of the Media.
im