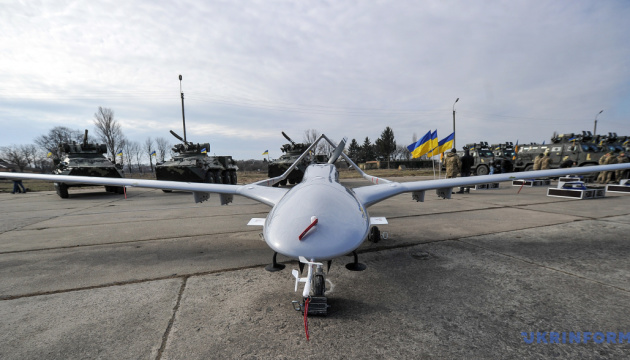 After Ukraine bought Bayraktar drones, they should no longer should be called "Turkish" - Çavuşoğlu
Although strike drones Ukraine uses were manufactured in Turkey, Ankara has nothing to do with their use by the Ukrainian Army.
That's according to Turkish Foreign Minister Mevlüt Çavuşoğlu who spoke on the sidelines of the G20 summit in Rome, Ukrinform reported with reference to TRT Haber.
"If a country buys weapons from us or from another country, these weapons can no longer be called Turkish, Russian, or Ukrainian. If some government buys it from us, it's no longer a Turkish product. It may have been made in Turkey, but it belongs to Ukraine. Turkey can't be blamed for this (use of UAVs in Ukraine's east - ed.)," Çavuşoğlu said.
Çavuşoğlu added that, in his opinion, Kyiv should stop referring to UAVs purchased from Ankara as "Turkish."
"Sometimes, in our fight against terrorism in different countries, we encounter different weapons from different countries, including Russia. We never blame Russia. Ukraine must also stop using our name," Çavuşoğlu said.
As Ukrinform reported, a number of governments have criticized Ukraine over the use of a Bayraktar UAV by Ukraine's Army to suppress an enemy howitzer that had been engaging Ukrainian defense positions.
In particular, a spokeswoman for the German Foreign Ministry said Berlin was "very concerned" about the report of the General Staff of the Ukrainian Army confirming the use of a strike drone in response to the shelling that killed a Ukrainian soldier.
Ukrainian Ambassador to Germany Andrij Melnyk has confronted the said position, stressing Ukraine's legal right to self-defense when its territory "is bombed day and night with Russian heavy weapons and when civilians and soldiers die."
President of Ukraine Volodymyr Zelensky said Ukrainian soldiers had fulfilled their duty by deploying the Bayraktar reconnaissance and strike drone complex on October 26 to suppress an enemy firing position in eastern Ukraine.
"As for the use of UAVs and other modern weapons, these arms serves Ukraine's defenses," Zelensky stressed. "And when Ukraine's Army feels it's necessary to protect our land, they do so. And they will continue to operate guided by this principle."
The president stressed the fact that the Ukrainian soldiers were not on the offensive mission, only adequately responding to an act of aggression.
im