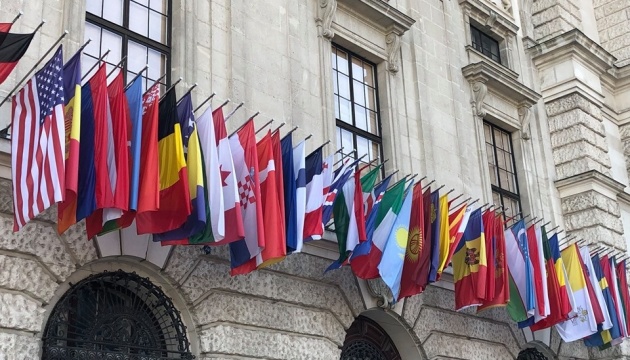 U.S. at OSCE: Russia-led forces not allowed to wear JCCC armbands
The United States is urging Russia to return to the Joint Center for Ceasefire Control and Coordination (JCCC) in eastern Ukraine and to instruct militants under its control to stop impersonating JCCC staff.
That's according to the U.S. Chargé d'Affaires to the OSCE, Courtney Austrian, who spoke at a meeting of the OSCE Permanent Council in Vienna on Thursday, an Ukrinform correspondent reports.
"We also urge Russia to rejoin the JCCC, which would greatly help the current situation, and to instruct the forces it leads to cease impersonating JCCC personnel, including the wearing of JCCC insignia," the mission chief said.
Commenting on the situation surrounding the blocking of the SMM's work in Donetsk, the U.S. diplomat called on Russia "to end these manufactured demonstrations and allow the SMM monitors to return to their work monitoring the Russia-led conflict in eastern Ukraine."
During the meeting of the Permanent Council, Ukraine's Permanent Representative to international organizations in Vienna, Yevhenii Tsymbaliuk, also raised the topic of the JCCC.
He reminded the Permanent Council that the JCCC shall consist exclusively of Ukraine and Russia's representatives.
As Ukrinform reported, earlier, on October 13, a group of three militants who are part of Russian occupation forces in Donbas, sporting JCCC armbands and declaring their intention to carry out a demining effort, were spotted reconnoitering the positions abandoned by the Ukrainian Army at the disengagement area in Zolote. This was a gross violation of the Additional Measures to Strengthen the Ceasefire Regime of July 22, 2020, prohibiting offensive, reconnaissance, and sabotage operations. Following multiple demands to cease the violation, one of the group members wielding a loaded handgun was detained. As it turned out, the detainee had been taking part in hostilities against the Armed Forces since 2014.
As is known, the Joint Center for Ceasefire Control and Coordination (JCCC) was established in September 2014 by representatives of the defense agencies of Ukraine and Russia through the OSCE mediation. In December 2017, Russia unilaterally terminated cooperation agreements within the JCCC by withdrawing its delegates. Since then, the Ukrainian side to the JCCC was the only remaining party to the body.
im