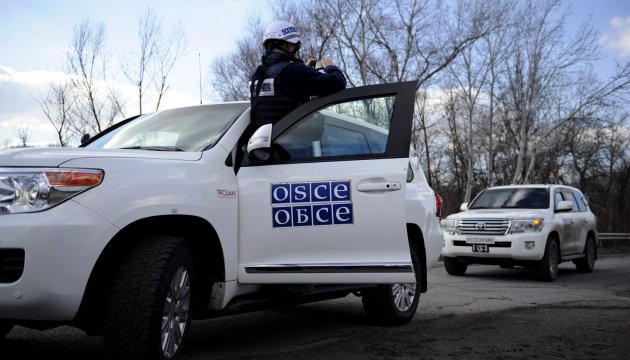 Ukraine exploring ways to respond to Russia's blocking of OSCE mission at border - Kuleba
The Ukrainian side does not count on the OSCE's pro-active stance to resume the work of the monitoring mission at the Gukove and Donetsk crossing checkpoints, seeking own "symmetrical or asymmetrical" response to Russia's step to block the mission's work.
That's according to Ukraine's Minister for Foreign Affairs Dmytro Kuleba who spoke at an online briefing on Wednesday, an Ukrinform correspondent reports.
The minister recalled that last week, within the framework of the Warsaw Security Forum, he discussed with the OSCE Secretary General, Helga Schmid, the monitoring of the uncontrolled part of the Ukrainian-Russian border.
"She (Schmid - ed.), unfortunately, shrugs and says: 'But what can we do? The OSCE is a consensus organization, Russia has blocked the decision (to extend the mission's mandate at the Gukove and Donetsk checkpoints - ed.), and that's it.' Therefore, I would not expect any activity on the part of the OSCE in resuming the mission's work," Kuleba said.
At the same time, he noted that this issue is extremely important from security and political perspectives. According to the chief of Ukrainian diplomacy, by blocking the OSCE mission's work at the said border checkpoints, Russia has taken a political step that deals a devastating blow to the Minsk Agreements, demonstrating that they ignore the logic of the settlement process.
"This topic was the subject of talks between President Zelensky, the president of France, and the chancellor of Germany on Monday (October 11 - ed.). And we are now exploring opportunities to come up a symmetrical or asymmetrical response to this step," the minister said.
In this context, he stressed that the Ukrainian side is interested in moving forward in a peaceful settlement of the armed conflict in eastern Ukraine.
"Therefore, we need to take steps that will not lead to escalation, to Russia is provoking us, but, on the contrary, to concessions from the Russian Federation to unblock the peace process," Kuleba concluded.
Russia has earlier refused to join the consensus to extend the mandate of the OSCE mission on the Ukrainian-Russian border at the Gukove and Donetsk checkpoints, which expired late September.
im