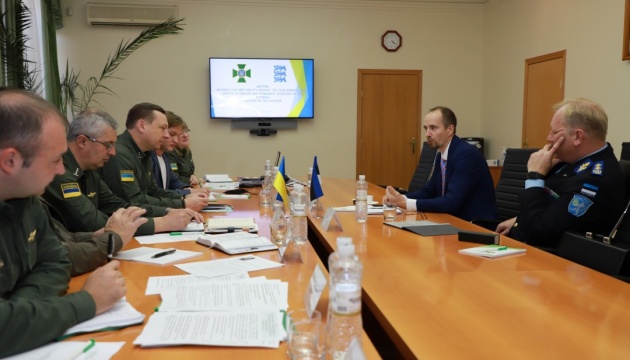 Ukraine, Estonia to exchange experience in coast guard development – State Border Guard Service
First Deputy Head of the Ukrainian State Border Guard Service Volodymyr Nikiforenko has met with Secretary General at the Estonian Interior Ministry Lauri Lugna and Special Representative of the Estonian Interior Ministry Tarmo Kohv to discuss bilateral cooperation, the State Border Guard Service has reported.
According to the report, Lugna said at the meeting that understanding the situation on the Ukrainian border and, in particular, on the line of contact in the Joint Forces Operation zone helps to understand how to act at all EU borders.
While discussing practical aspects of cooperation, the parties agreed to exchange experience in the development of the coast guard. According to the guests, Estonia has very successful experience in this area as ships and boats, used to be moored at berths, now have a permanent presence at sea.
Another example of the success of Estonian colleagues is the introduction of an electronic queuing system and a complete solution to the problem of the downtime of trucks crossing land sections of the border at checkpoints.
Nikiforenko noted that Ukraine also has a pilot project to implement an electronic queuing system, in particular, at some checkpoints in Zakarpattia region, but it requires significant refinement and improvement.
In addition, the parties discussed the possibility of practical training for officers serving in the land sections of the border so as to study the specifics of the work of units and implement the best practices in border protection systems.
op