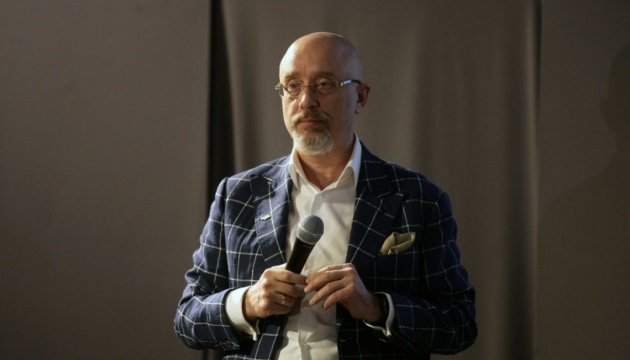 Reznikov comments on Russia's refusal to extend the OSCE mandate on Ukraine border
Russia's refusal to extend the mandate of the OSCE Special Monitoring Mission on the border with Ukraine is a brazen demonstration of Russia's indifference to the Minsk agreements.
That's according to the Minister for Reintegration of the Temporarily Occupied Territories, Oleksiy Reznikov, who spoke at the Freedom of Speech on ICTV panel show, an Ukrinform correspondent reports.
"I see this as essentially Russia's defiance of Minsk agreements, the Minsk accords because the condition that there will be an OSCE SMM there is provided for by the Minsk agreements... This is a brazen demonstration (by Russia – ed.) to the whole international community that 'we don't care what agreements you are talking about, we don't care what the Organization for Security and Cooperation in Europe is,'" Reznikov said.
He added that the option of additional arms supply to the Russian proxies through the uncontrolled part of Ukraine's border with Russia is absolutely probable.
Reznikov also noted that among the measures to avoid escalation in the east it is necessary to strengthen the Ukrainian army, develop the fleet, air forces, missile defense.
As reported, on September 2, during a meeting of the OSCE Permanent Council, the Russian Federation announced its president's decision not to support the broad consensus within the OSCE on extending the mandate of the OSCE SMM at Russian border crossings Gukovo and "Donetsk" after September 30, 2021.
The Ukrainian delegation to the Trilateral Contact Group noted that the implementation of this intention is about Russia's continued efforts aimed at deliberate sabotage of the fulfillment of the Minsk Agreements, including paragraph 4 of the Minsk Protocol of September 5, 2014, which enshrines continuous monitoring and verification between Ukraine and Russia.
The OSCE Monitoring Mission at the Russian checkpoints Gukovo and Donetsk has been operating since July 29, 2014, in accordance with the decision of the OSCE Permanent Council, adopted by consensus. It monitors the situation and movements across the border at these two Russian checkpoints and drafts reports. The mission currently consists of 22 international observers.
Ukraine and partner countries have repeatedly called for the mandate of this Mission to be extended to all areas of the border adjacent to the occupied territories of Donetsk and Luhansk regions, but such expansion is being blocked by Russia. At the same time, the Russian side prohibits OSCE observers from using any surveillance tools, including binoculars and drones.
On July 22, 2021, the Permanent Council of the Organization for Security and Cooperation in Europe extended the mandate of the observation mission at the Gukovo and Donetsk checkpoints for only two months.
Photo: hromadske
im