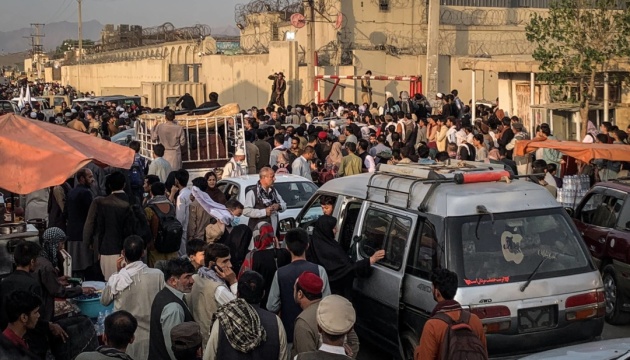 Afghanistan crisis: Ukraine intelligence shows exclusive footage of evacuation mission
Ukrainian military intelligence forces risked their lives in Kabul to find and safely extract from the country people from the evacuation list.
The Main Intelligence Directorate of the Ministry of Defense (GUR MO) has shown exclusive footage of the evacuation mission in Afghanistan, Ukrinform reports.
"In order to find and safely pick up people from the evacuation list, GUR special operations forces would walk outside the airport's protected perimeter. None of the other evacuation missions dared to make such a risky decision, as the area outside the airport was already controlled byTaliban militants. However, this approach allowed them to find and pick up in a short timeframe as many as possible people whose names had been agreed for the evacuation," GUR MO notes.
According to the intelligence report, Ukrainian pilots were also an important part of the mission, as they worked in difficult conditions, under constant threat of coming under fire during takeoff.
"The evacuees were astonished to see Ukrainian special forces taking personal risks to save the civilians!" the report reads.
As Ukrinform reported earlier, the rescue operation in Kabul was run by the Defense Ministry's Main Intelligence Directorate with the assistance of the Ministry of Foreign Affairs and support of the President's Office.
Among the evacuees were citizens of Ukraine, other countries' nationals, including UN officials, members of human rights organizations, employees with Global Mail, USA Today, Washington Post, Stars and Stipes, and other media outlets, as well as those who had cooperated with the coalition forces in the country.
Despite the fact that Ukraine did not operate its own peacekeeping contingent in Afghanistan, its rescue mission ranked eighth largest among European countries by the number of evacuees lifted from Afghanistan – more than 700.
Photo: JIM HUYLEBROEK / THE NEW YORK TIMES
im