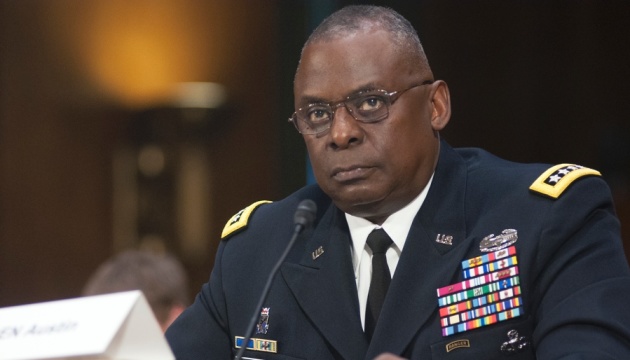 Ukraine may count on U.S. support in repelling Russian aggressor – Austin
Ukraine may count on the support of the United States in its fight against Russian aggression.
This was stated by U.S. Secretary of Defense Lloyd Austin during a meeting with President Volodymyr Zelensky of Ukraine, which took place at the Pentagon on Tuesday, an Ukrinform correspondent reports.
Lloyd said the United States would also continue to assist Ukraine in its Euro-Atlantic aspirations.
In turn, Zelensky expressed condolences to the American side in connection with the deaths of U.S. military in Afghanistan. He noted that the Ukrainian forces were alongside "your guys" in Afghanistan, helping save the ives of thousands. The president of Ukraine noted that immediately after his arrival in the United States, American and Ukrainian flags were half-mast in honor of the fallen heroes of the Afghanistan mission.
"We understand this very well," he said, "because we are also losing troops in eastern Ukraine, where war has been going on for eight years already and where Ukraine is defending its sovereignty and independence."
Zelensky praised the fact that the United States "unequivocally supports Ukraine" and thanked the Secretary of Defense for his personal support and for the U.S. "recognizing the actor in this war." He also expressed gratitude to the United States for the increased military assistance and for the rehabilitation support provided to soldiers wounded in the warzone in the country's east. The president noted that the agreements signed between the Ukrainian and U.S. defense chiefs are a step forward in relations between the two countries.
"Now it's hard to say how historic these documents will turn out and whether they bring the relations to a new level, but that's what I definitely want," said Zelensky.
It should be recalled that at the Pentagon, U.S. Secretary of Defense and Ukrainian Defense Minister Andriy Taran signed two agreements: an intergovernmental agreement on projects in the field of research, development, testing, and evaluation; and a framework agreement on the strategic foundations of defense partnership.
Photo: CARLOS BONGIOANNI / STARS AND STRIPES
im