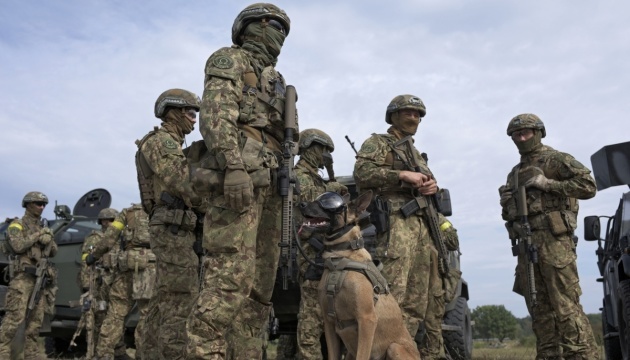 Rapid Trident 2021 could involve 6,000 military from 15 countries
A final conference on the planning of Ukrainian-U.S. Rapid Trident 2021 command and staff exercises involving troops kicked off at the International Peacekeeping and Security Center of the Hetman Petro Sahaidachny National Academy of Land Forces.
It is expected that 15 states will take part in the drill, involving a total of almost 6,000 military, according to the press service of Ukraine's Ministry of Defense, Ukrinform reports.
"These exercises will take place within the framework of international military cooperation and training of the Armed Forces of Ukraine. Fifteen states are looking into taking part in the event, while the total number of personnel is approaching 6,000," said Brigade General Viacheslav Klochkov, the general chief of international exercises and deputy head of the Skhid (East – ed.) Operational Command.
According to Colonel Vitaliy Nehodenko, Head of the Multinational Exercises Command of the Land Forces Command currently chairing the Rapid Trident 2021 Planning Group, the peculiarity of this year's maneuvers is that they will be combined with the general scenario of the Joint Effort 2021 command and staff exercise. In addition, multinational units will be established during the drill.
Nehodenko also said that for the first time in the history of Rapid Trident, battalion tactical live-fire exercises involving a multinational battalion. During the event, joint jumps of Ukrainian and American paratroopers from the U.S. S-130 military transport aircraft have been scheduled.
During the Ukrainian-U.S. exercises, within the framework of the program of operational capabilities concept verification and feedback, the performance of several units of the Armed Forces will be assessed. Also, what is seen as very important for Ukraine is the NATO Appraisers Course, which will be conducted by NATO instructors.
On the opening day of the conference, special attention was paid to measures to combat the spread of COVID-19.
As reported earlier, the Ukrainian-U.S. Rapid Trident 2021 command and staff exercises involving troops will kick off on September 20 and last until October 1.
im