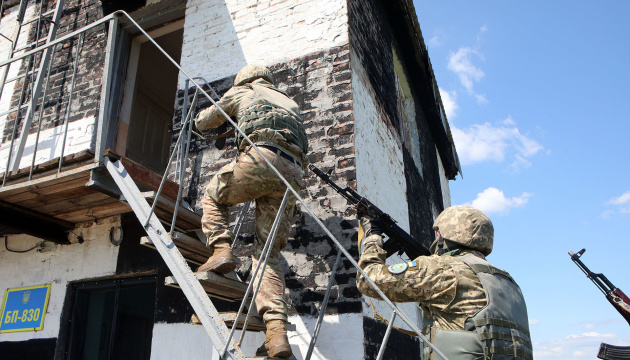 In Donbas, Ukrainian military exercise in crossing water obstacles
During the tactical and special exercise in the Joint Forces Operation zone, Ukrainian military engineers practiced their skills in setting up a pontoon crossing, applying a smokescreen cover for the effort.
That's according to a report by the JFO HQ press service, Ukrinform wrote.
"In the Joint Forces Operation zone, special tactical exercises were held to set up the pontoon-bridge crossing and conceal the process with aerosol smoke," the report said, adding that the servicemen with one of the engineering brigades and the Radiation, Chemical and Biological Protection Regiment were involved in the drill.
The military succeeded in putting up a river crossing, disguising the effort with a smokescreen, and ensured that the military hardware crossed the water obstacle. The task was performed in due time standards, as well as reliably and efficiently, the Command notes, adding that such practical exercises allow maintaining soldiers' engineering skills at a proper level.
As Ukrinform reported earlier, engineering units of the Armed Forces of Ukraine are equipping new positions and setting up additional fortifications in the JFO zone's southern direction. Since year-start, military engineers have equipped trenches and shelters for military hardware, created a network of trenches between the dugouts, now further equipping firing positions to strengthen defense lines.
im