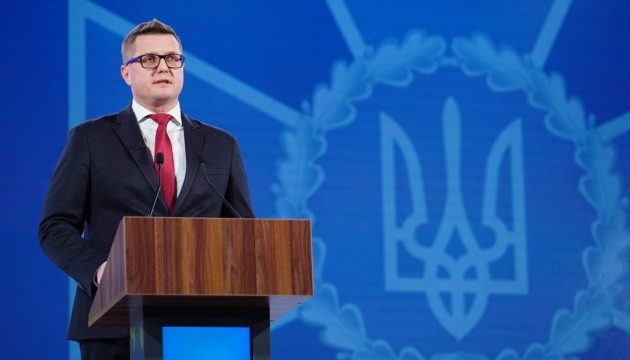 Bakanov: Russia's strike group on border with Ukraine numbers about 100,000 troops
According to the data of the Security Service of Ukraine, the combat and numerical strength of the Russian strike group on the border with Ukraine is about 100,000 troops now.
"To date, the combat and numerical strength of the strike group of the Armed Forces of the Russian Federation, which is deployed along the border of Ukraine and in the occupied territory of Crimea, reaches about 100,000 people. These are tanks, warplanes, ships, battalion tactical groups, and groups of missile troops and artillery," Chief of the Security Service of Ukraine Ivan Bakanov said during the All-Ukrainian Forum "Ukraine 30. National Security", an Ukrinform correspondent reports.
He stressed that Russia used Ukraine as a testing ground "in the implementation of some kind of its incredible plans."
According to the SBU chief, the situation has somewhat stabilized, but it is necessary to realize that "Russia has withdrawn only part of the army, the threat has not disappeared."
Bakanov also noted that one should not forget about Belarus, which is a potential ally of Russia "if Russia implements a plan to invade Ukraine." According to him, this is evidenced by the recent joint exercises by Belarus and Russia.
According to the chief of the Security Service of Ukraine, 65 percent of the Ukrainian border is vulnerable, and "the remaining 35 percent in the western direction also require close attention." "After all, the Russian Federation actively feeds and uses nationalist movements in these countries to influence the situation in Ukraine. The example of Hungary clearly proves this," Bakanov said.
As reported, Russia announced the withdrawal of its troops from Ukraine's borders under the pretext of "successful completion of exercises", but at the same time leaves its military presence and technical equipment near Ukraine's borders and in the temporarily occupied territories of eastern Ukraine and Crimea.
Earlier, the Russian Federation amassed a group of about 110,000 troops near the eastern borders of Ukraine and in the occupied Crimea, raising concerns of the Ukrainian authorities and Western partners.
ol