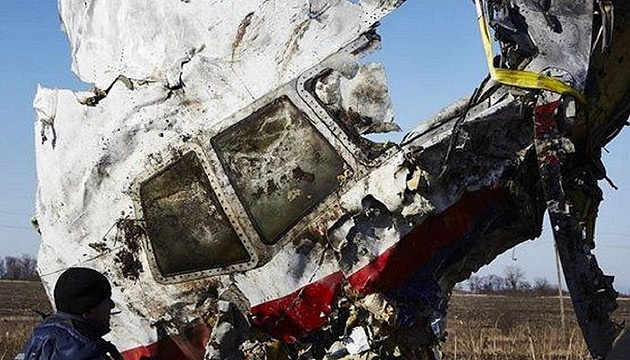 New evidence of Russia's involvement in downing MH17 appears in media
NOS Dutch television and radio company published new recordings of conversations between militants of certain areas of Donetsk region before and after Russian Buk missile system shot down Malaysia Airlines flight MH17 on July 17, 2014.
As Ukrinform reports with reference to the Nieuwsuur program on a Dutch TV channel, suspects Igor Girkin, Sergey Dubinskiy, Oleg Pulatov, and Leonid Kharchenko appear in the published recordings.
In a fragment of the conversation, Dubinskiy says that Girkin "reached out to Moscow" on the day of the MH17 crash. In addition, he says that the militants are waiting for "Moscow's decision" to withdraw their units from Slovyansk.
In another conversation, Dubinskiy's subordinate Pulatov tells him that "tanks are not needed, only long-range artillery and good air defense are needed." In response, Dubinskiy promises Pulatov to deliver Buk missile system.
"We have no other recourse but to hope for Buk," he says.
After MH17 was downed, Kharchenko calls Pulatov and reports that the terrorists shot down a "Su" [fighter aircraft of the Armed Forces of Ukraine]. Dubinskiy later finds out that the militants shot down passenger flight MH17.
After the plane crash, Girkin instructs Dubinskiy to take Buk away to Russia through Luhansk region, but the terrorists lose sight of the missile system for a time.
Malaysia Airlines flight MH17, en route from Amsterdam to Kuala Lumpur, was shot down over occupied area of Donetsk region on July 17, 2014. There were 283 passengers and 15 crew members on board. All of them died. The international Joint Investigation Team reported that the plane had been shot down from a Buk missile system that belongs to the 53rd Anti-Aircraft Missile Brigade of the Russian Armed Forces stationed in Kursk.
On June 19, 2019, the JIT named four suspects believed to be involved in the transportation and combat use of the Buk missile system, from which MH17 flight had been downed. Three of them are Russians: Igor Girkin (Strelkov), former colonel in Russia's FSB intelligence service and former so-called defense minister of the so-called "Donetsk People's Republic"; Sergey Dubinskiy, general (at the time of downing – colonel) of the Main Intelligence Directorate of the General Staff of the Russian Armed Forces and head of the so-called "Main Intelligence Directorate of the Donetsk People's Republic"; Oleg Pulatov, lieutenant colonel of the Main Intelligence Directorate of the General Staff of the Russian Armed Forces. The fourth suspect is Leonid Kharchenko, a Ukrainian civilian, who fought on the side of the so-called "Donetsk People's Republic."
In March 2020, the District Court of The Hague began the consideration of the case of the downing of Flight MH17 in the sky over Donbas.
ol