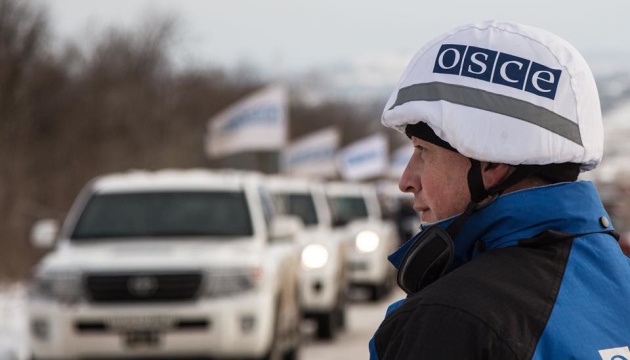 OSCE condemns Russia's military activities on border with Ukraine and requires explanation
The OSCE participating States have condemned Russia's military activities on the border with Ukraine and are demanding an explanation from Moscow on this matter.
This was said in an OSCE report following the April 10 meeting, which was provided to Radio Liberty.
The meeting was initiated by Ukraine. At the same time, Russia, which was supposed to provide information about its military activities, refused to participate in it.
On behalf of the European Union, Portugal [as it presides over the Council of the European Union] expressed concern about the concentration of Russian troops and the security situation on the Ukrainian borders.
"Portugal and the European Union called on Russia to take the necessary steps to de-escalate and join meaningful dialogue and constructive consultations. Portugal expressed full support for Ukraine's request to activate the risk mitigation mechanism," the document reads.
In addition to supporting Ukraine, the EU called on "the parties to refrain from actions and rhetoric that could lead to increased tensions."
The United Kingdom expressed concern over the decision of the Russian Federation not to participate in the meeting. London wants Moscow to explain its actions at the border.
Canada asked Russia when it plans to withdraw troops from the border to their places of permanent deployment, and also inquired why the Russian authorities did not inform about their maneuvers.
Germany and France criticized Russia's response to its large-scale military build-up on the border with Ukraine, calling it too succinct and general.
"The United States emphasized that the absence of transparency suggests this is not a routine nor previously scheduled military exercise. Germany, also speaking on behalf of France, expressed concern over the large-scale movements of the Russian military contingent on the border with Ukraine, which can be dispelled with proper explanations," the report says.
In addition, Georgia, Poland, Latvia, Lithuania and Turkey supported Ukraine.
As a reminder, the Russian armed forces have recently been building up troops near the state border of Ukraine in the north, east and south, as well as in the occupied Crimea. In addition, the number of ceasefire violations in eastern Ukraine by the armed formations of the Russian Federation has increased; there are losses among the soldiers of the Armed Forces of Ukraine. In parallel, the Russian Federation is conducting a propaganda campaign to justify possible aggression against Ukraine.
The United States, other Western countries, as well as the EU and NATO, have come out in support of Ukraine's sovereignty and territorial integrity against the backdrop of Russia's escalation in eastern Ukraine.
ish