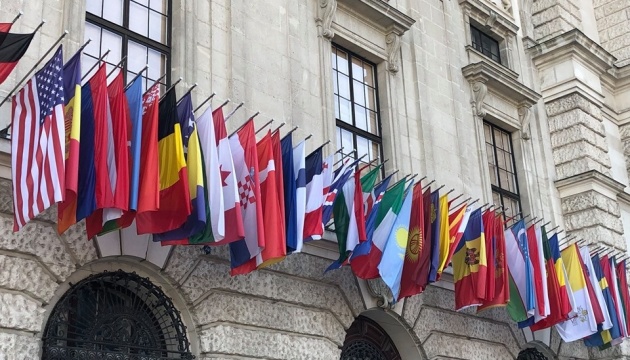 Ukraine at OSCE: Occupiers continue to change their positioning in Donbas
The Ukrainian mission to the OSCE informed the delegations of the participating states about new cases of changes in the positioning of the Russian occupation forces along the contact line in Donbas.
"In violation of provision a.) of the TCG agreement of 22 July 2020 that prohibits the conduct of offensive and subversive activities, the armed formations of the Russian Federation regularly change their positioning, which includes the advancement of their positions towards the Armed Forces of Ukraine. These actions are considered as provocative and offensive in nature," Nataliia Kostenko, Deputy Permanent Representative of Ukraine to the International Organizations in Vienna, said at the meeting of the OSCE Forum for Security Co-operation on March 17.
As emphasized, the Ukrainian side regards engineering and fortification works conducted by the armed formations of the Russian Federation to build new and upgrade existing positions "as a blatant violation of the Minsk agreements and disregard of the TCG agreement of 22 July 2020, as well as deliberate steps to destabilize the situation in the temporarily occupied by the Russian Federation areas in the Donetsk and Luhansk regions and adjacent territories and further instigation by Russia of the conflict it started."
As reported, on July 22, the Trilateral Contact Group agreed on additional measures to strengthen the ceasefire in Donbas. The first paragraph of the TCG decision, which came into force on July 27, provides for a "ban on offensive, reconnaissance and sabotage operations, as well as a ban on the use of any type of aerial vehicles of the parties."
"Offensive operations", as defined in the agreement, "should be understood to mean any attempt to change the positioning of troops made at the time of the adoption of this statement, including additional engineering equipment of positions and/or any advance or relocation of armed persons towards the adversary, including with the purpose of conducting reconnaissance or sabotage operations."
ol