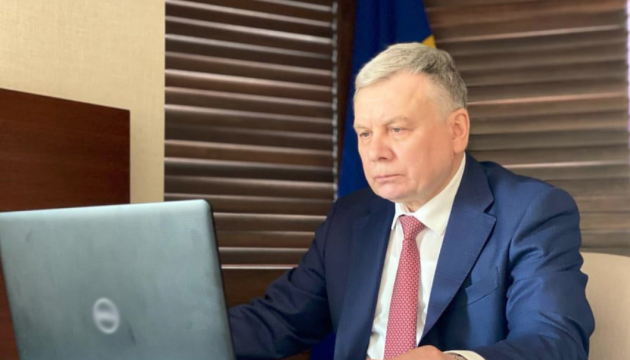 Japan confirms its intention to participate in Sea Breeze 2021 – Taran
Minister of Defense of Ukraine Andrii Taran and Minister of Defense of Japan Nobuo Kishi discussed the development of bilateral cooperation during an online meeting in Tokyo. The Japanese side confirmed its intention to take part in the international military exercises to be held in Ukraine this year.
This was reported by the press service of the Ministry of Defense of Ukraine.
"We agreed to hold the second round of Ukrainian-Japanese consultations on security issues at the level of high representatives of the Defense Ministry and the Foreign Ministry of the two countries in the format of two representatives from each side in the fall of 2021. We also considered the possibility of organizing an exchange of experience between the military personnel of the two countries, in particular the Land Forces and the Special Operations Forces. The Japanese side confirmed the involvement of representatives of the Japan Self-Defense Forces in the Sea Breeze 2021 multinational exercises in Ukraine and expressed its readiness to join the Joint Efforts 2021 exercises," Taran said.
Minister Kishi reaffirmed Japan's unwavering stance, which respects Ukraine's independence and territorial integrity and considers any attempt to change the country's territorial status quo illegal.
In turn, Minister Taran reiterated that Ukraine shares Japan's position on resolving the territorial issue on the basis of the 1956 declaration and the need to ensure free and safe navigation in all waters in line with international agreements.
According to the press service, the meeting between the two defense ministers lasted for more than two hours.
As Ukrinform reported earlier, Ukrainian Defense Minister Andrii Taran held a video meeting with State Minister for Foreign Affairs of Japan UTO Takashi, during which they discussed security issues in East Asia and Donbas, as well as Japan's participation in the Crimean Platform summit.
Minister Taran's visit to Japan – the first-ever in the history of bilateral relations – began on March 16.
ish