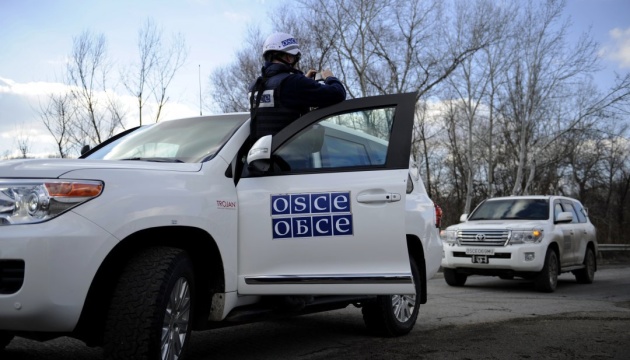 OSCE SMM's freedom of movement restricted 22 times over past two weeks
Between January 25 and February 7, 2021, the freedom of movement of the OSCE Special Monitoring Mission to Ukraine (SMM) in Donbas was restricted 22 times, according to a status report as of February 8, 2021.
"The Mission's freedom of movement on the ground was restricted 22 times, all but once in non-government-controlled areas," the report reads.
In addition, SMM unmanned aerial vehicles were targeted three times by small-arms fire in non-government-controlled areas and once in government-controlled areas, and experienced signal interference assessed as caused by probable jamming on 33 occasions while flying on both sides of the contact line.
"Between January 25 and February 7, 2021, the SMM recorded 1,697 ceasefire violations, compared with 966 in the previous two-week period. The SMM recorded a spike of ceasefire violations – 464 – on January 28, most of which it assessed as a live-fire exercise," the report notes.
During the two-week reporting period, the SMM corroborated one civilian casualty – a woman in her sixties injured due to shelling on May 1, 2020 in Donetskyi, Luhansk region.
The SMM continued to monitor the disengagement areas near Stanytsia Luhanska, Zolote and Petrivske, observing people in the latter two areas and recording three ceasefire violations inside the area near Petrivske.
The Mission continued to observe civilians facing challenges when crossing, or attempting to cross, the contact line in both directions. It again noted that the only crossing points civilians were able to use continued to be near Stanytsia Luhanska (operational daily) and Novotroitske/Olenivka (twice a week as the armed formations' checkpoint there is only operational on Mondays and Fridays).
ish