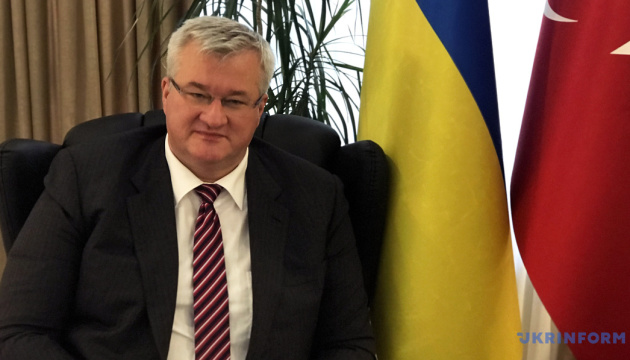 Ukraine, Turkey implementing over 30 defense projects – ambassador
Cooperation between Ukraine and Turkey in the military-technical and defense-industrial sectors has recently reached a new level. In total, the partnership in the aerospace and defense spheres includes more than 30 projects.
Ukraine's Ambassador to Turkey Andrii Sybiha said this in an interview with Defensehere.com, a media platform for the military and defense industry.
"Bilateral cooperation between Ukraine and Turkey in the military-technical and defense-industrial spheres has recently been brought by the parties to a new qualitative level and remains one of the main elements of the Ukrainian-Turkish strategic partnership ... In general, the partnership between the two countries in the aerospace, military and defense industries includes more than 30 projects," the ambassador said.
"Ukraine was one of the first foreign countries to purchase the Bayraktar TB2 unmanned aerial vehicle systems. While being one of the most comprehensive agreements in extended relations between the two countries, this agreement has taken our relations to a completely new level. However, our work towards that direction is gradually improving. Within the framework of our latest agreement, the engines of the Akinci UAVs will be produced by Ukraine. In addition, both parties are still in talks regarding the manufacturing of the Ukrainian engines in Turkey as well as the manufacturing of the Turkish UAVs in Ukraine," Sybiha stressed.
Among the promising areas, he named cooperation in the joint production of armored vehicles' engines, peaceful space exploration, as well as the creation of joint ventures for the production of aviation equipment based on Antonov aircraft, and the aeronautical subsystems based on the developments of the State Enterprise Ivchenko-Progress.
As reported, on October 16, President of Ukraine Volodymyr Zelensky and President of Turkey Recep Tayyip Erdoğan met in Istanbul and signed a number of bilateral documents. In particular, Defense Minister of Ukraine Andriy Taran and National Defense Minister of Turkey Hulusi Akar signed a framework military agreement between the governments of the two countries.
On December 14, the Ministry of Defense of Ukraine concluded first-ever direct foreign economic agreements for military goods. Defense contracts with Turkish companies were signed by Defense Minister Andriy Taran and Head of the Presidency of Defence Industries (SSB) of the Republic of Turkey İsmail Demir.
ish