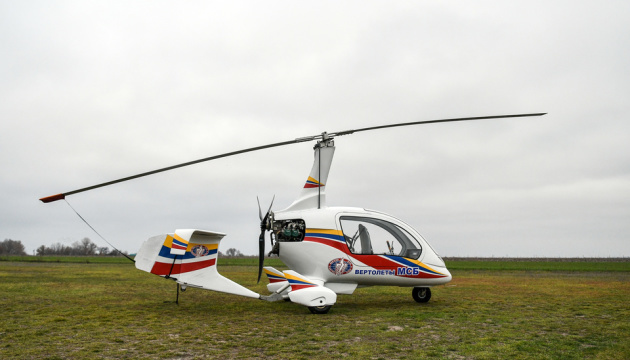 First Ukrainian gyrocopter undergoing testing
A prototype of a gyrocopter developed at JSC Motor Sich is being tested in Zaporizhia, designer Oleksii Chyrva has told Ukrinform.
"This aircraft is called a gyrocopter or autogyro. Now the world is experiencing a real boom: the Germans produce about 300 such aircraft a year. The United States, France and Italy also produce them. Motor Sich President Vyacheslav Boguslayev set us the task of making a prototype autogyro," he said.
In 2017, Chyrva visited an exhibition in Germany where he viewed and photographed many different gyroplanes. According to him, four people worked on the creation of the Zaporizhia autogyro for three years. They assembled the aircraft completely on their own, he said.
"It develops a speed of up to 160 km/h. We are now working to improve the rotor. We want to make a plastic rotor that will achieve higher speeds. The gyrocopter is equipped with a 90-liter fuel tank and can cover a distance of up to 800 kilometers. It weighs 320 kilograms. It can rise to an altitude of 2,500 meters. Pilot Valerii Kulpinskyi said that it turned out to be a very convenient rotorcraft. We are currently finalizing and preparing documentation for certification. There is no such class of autogyros in Ukraine. Vyacheslav Boguslayev wants to mass-produce such aircraft," the designer said.
The gyrocopter costs from 60,000 to 100,000 euros.
op