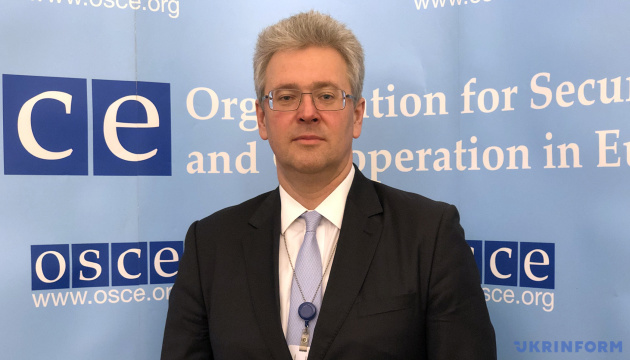 Ukraine at OSCE: Talks on transferring control over border in Donbas should start already
Preparations for Russia's transfer of full control over border in Donbas to the Government of Ukraine should already start, and therefore the creation of an additional working group on border issues within the TCG is urgent.
"The uncontrolled segment of the Ukrainian-Russian state border constitutes 409km. The transfer of control of it is simply impossible overnight. Preparations must start well in advance, with clear understanding of necessary practical steps. In this context, we reiterate the need to create an additional Working Group on Border within the TCG," Yevhenii Tsymbaliuk, Permanent Representative of Ukraine to the International Organizations in Vienna, said at the OSCE Permanent Council meeting in Vienna on 19 November 2020.
The Ukrainian diplomat also quoted paragraph 9 of the Minsk Package of Measures which concerned the border: "Reinstatement of full control of the state border by the government of Ukraine throughout the conflict area, starting on day 1 after the local elections."
"I repeat, full control," Tsymbaliuk emphasized.
As reported, the Ukrainian authorities have repeatedly reminded that holding local elections in certain areas of Donetsk and Luhansk regions is possible only after the withdrawal of Russian armed groups, mercenaries and weapons from eastern Ukraine.
On February 20, 2014, Russia started the armed aggression against Ukraine, capturing Crimea. Subsequently, Russian regular troops and Russian-led militants occupied parts of Donetsk and Luhansk regions in eastern Ukraine.
ol