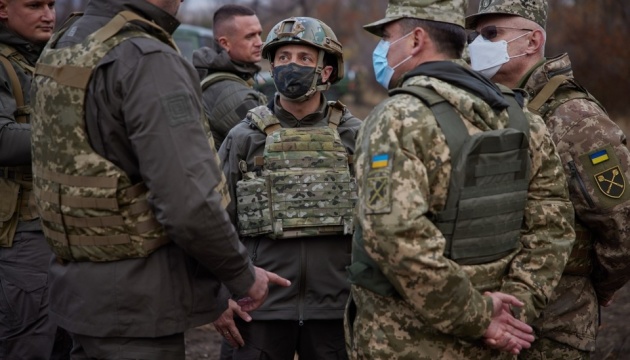 Number of Ukrainian soldiers killed in Donbas decreases tenfold over 103 days of ceasefire
Over the 103 days of the ceasefire regime established in Donbas on July 27, the number of killed Ukrainian servicepersons has decreased tenfold compared to last year.
According to President of Ukraine Volodymyr Zelensky, Ukraine still has combat losses, which is why it is so important to continue to move towards ending the war and achieving peace, the President's Office informs.
"Unfortunately, we have suffered three casualties during this time, over 103 days of the ceasefire. The absolute ceasefire is not observed, unfortunately. But if to look at real numbers, we understand that the number of attacks has decreased 5.5-fold and the number of killed Ukrainian servicepersons has decreased tenfold over these 103 days," the Head of State said during a working trip to Donbas.
The President noted that the reduction in the number of combat losses on the Ukrainian side was the result of the work of the Ukrainian military, diplomats, the Ukrainian delegation to the Trilateral Contact Group and head of the delegation Leonid Kravchuk.
"This is the beginning of the path towards restoring our territorial integrity and ending the war. There will be no desired result without such difficult steps," Zelensky stressed.
Head of the Office of the President of Ukraine Andriy Yermak noted that the negotiation process was underway at several sites and some achievements had already been reached.
In particular, on Friday, the Head of State together with representatives of diplomatic missions visited the new modern entry-exit checkpoint "Shchastia" on the contact line. The entry-exit checkpoints in Shchastia and Zolote will start operating on November 10, in accordance with the agreements reached within the Trilateral Contact Group with the support of Ukraine's international partners.
According to Andriy Yermak, the work of the Trilateral Contact Group will continue in a video conference format on November 10, while a video meeting of advisers to the leaders of the Normandy format countries will be held on November 13.
"The Ukrainian side works 24/7 to bring peace to the east. This is the priority of President Volodymyr Zelensky, the priority of the whole team," Yermak added.
ol