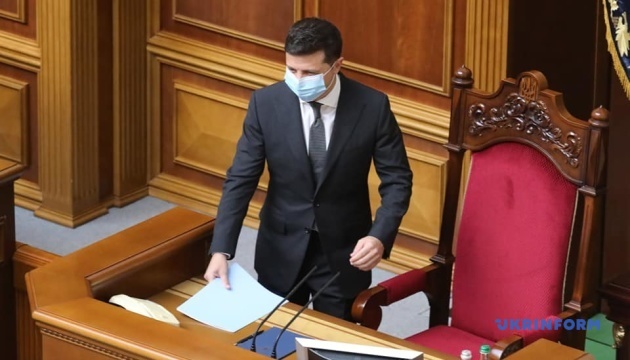 Zelensky: Ceasefire regime in Donbas not perfect, but longest ever
The current ceasefire regime in Donbas is not perfect, but the longest ever observed during the war in eastern Ukraine.
"The ceasefire was announced on July 27. As of now, it has been lasting already for the 86th day in a row - the longest period during the war. Is it perfect? ​​No, it is not. Are there any violations? Yes, there are. Are there any attempts to break it? Definitely, yes. But we must admit: the number of shots has significantly decreased," President of Ukraine Volodymyr Zelensky said in his address on the internal and external situation in Ukraine to the Verkhovna Rada, an Ukrinform correspondent reports.
"Ukrainian troops have suffered only one combat loss and it hurts, but the fact that there are days, weeks, and even months when we do not bury our heroes, when mothers and children do not cry, gives hope," the President added.
Zelensky also noted that the process of releasing captured Ukrainian citizens continued: "We remember all those who are still in captivity, and we are doing everything possible to return them."
The President reminded that 136 people had been released and returned to their relatives during his term.
"We have unblocked the Normandy process, which has been blocked since 2016. We managed to release and return 136 Ukrainians, including our sailors, Oleg Sentsov, Edem Bekirov, Oleksandr Kolchenko, Stanislav Aseyev and many others. We are fighting for every Ukrainian - both military and civilian," the President said.
As Zelensky pointed out, a person is of the highest value for him and every citizen should know that the state will not leave them.
The end of the war in Donbas, establishment of peace, return of Ukrainian people and territories are the top-priority issue on his agenda, the President stressed.
As reported, the agreement on additional measures to strengthen the ceasefire, starting at 00:01 on July 27, was reached at the Trilateral Contact Group meeting on July 22. From the beginning of the ceasefire regime and until mid-October, the OSCE SMM recorded a total of 1,620 ceasefire violations in Donetsk and Luhansk regions.
ol