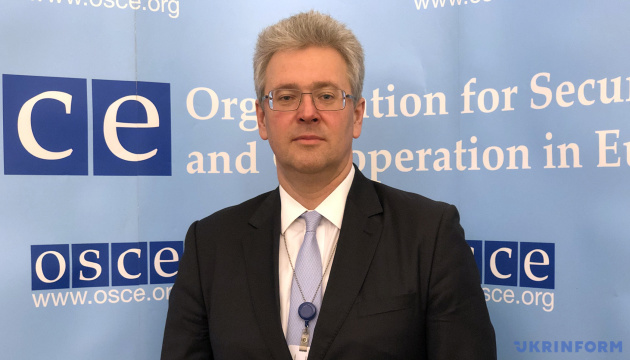 Ukraine at OSCE: Russia must withdraw its mercenaries from Donbas after ceasefire is observed
The complete absence of ceasefire violations in Donbas must be complemented by withdrawal of heavy weapons, Russian armed formations, military equipment and mercenaries from the occupied parts of Ukraine.
"The current ceasefire in Donbas, unprecedented in its duration and comprehensiveness since the very beginning of Russian-Ukrainian armed conflict, should serve as a solid basis for further progress. The number of ceasefire violations should drop to zero and be complemented by withdrawal of heavy weapons, Russian armed formations, military equipment and mercenaries from the occupied parts of Ukraine, as well as reinstatement of full control of the state border by the government of Ukraine," Ambassador Yevhenii Tsymbaliuk, Permanent Representative of Ukraine to the International Organizations in Vienna, said at the OSCE Permanent Council meeting on 1 October 2020.
Tsymbaliuk stressed that those efforts required political will by the Russian side, similar to what it had demonstrated by instructing its armed personnel to adhere to ceasefire along the contact line in Donbas since 27 July.
However, the diplomat underscored that "as of now, we do not witness such readiness of the Russian side." By contrast, the Russian armed formations continue to restrict access of the SMM ground patrols to the occupied territories, claiming the additional ceasefire measures and demanding so called "joint inspections" to check the reports and conclusions of the OSCE.
Commenting on the situation on the political track of peaceful settlement within the Minsk process, Tsymbaliuk noted that "there is still long path ahead" before preparations for holding local elections in occupied areas of Donetsk and Luhansk regions could start.
"Much work should also be done in the TCG Political working group, but it has been blocked as well, despite best efforts of Ambassador Morel and repeated calls by the Ukrainian delegation to resume paragraph-by-paragraph discussions on the documents on its agenda," Ukraine's Permanent Representative to the International Organizations in Vienna said.
"Blocking any progress on other tracks of the Minsk agreements, such as disengagement of troops and hardware, opening of new entry-exit checkpoints and mutual release of detainees, is equally counterproductive. On these tracks too, Russia also uses other excuses to finalize arrangements, or hinder or otherwise delay implementation of already reached agreements. We urge the Russian side to drop its practice of blackmailing and return to constructive consultations within the TCG," Tsymbaliuk emphasized.
On September 30, a regular meeting of the Trilateral Contact Group (TCG) was held via video conference with the participation of Ukrainian and Russian delegations and moderated by the OSCE. Head of the Ukrainian delegation Leonid Kravchuk called on Russia's representative Boris Gryzlov "not to block the negotiation process and to focus on the issues which the Ukrainian citizens are interested in."
ol