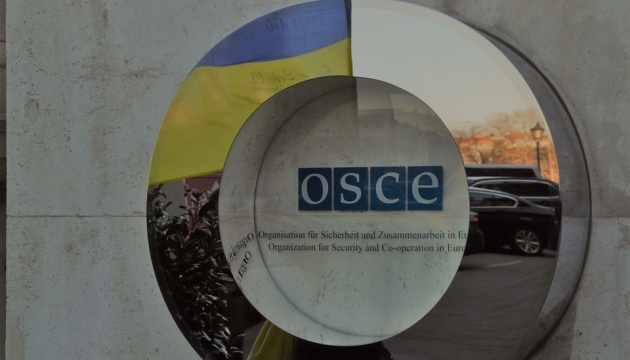 Invaders lay mines in new areas of Donbas – OSCE report
An OSCE UAV recorded a number of violations by Russian-occupation forces in the non-government-controlled territory of Ukraine, the press center of the Joint Forces Operation (JFO) has reported.
"On September 13, an SMM mini-UAV spotted 14 anti-tank mines laid across the road, about 2.5km south of Sakhanka (non-government-controlled, 97km south of Donetsk), assessed as belonging to the armed formations," reads a report of the OSCE Special Monitoring Mission (SMM) issued on September 17.
On the same day, an SMM mini-UAV again spotted eight anti-tank mines laid in a single row across road H-21, about 1.8km north-east of Vesela Hora (non-government-controlled, 16km north of Luhansk), as well as 20 anti-tank mines in loose clusters on the eastern and western lanes of the same road, all assessed as belonging to the armed formations.
On September 16, in Vesele (non-government-controlled, 9km northwest of Donetsk), the Mission saw for the first time six remnants of ammunition, four of which were assessed as metal tubes from rounds of multiple launch rocket system (MLRS) (BM-21, Grad, 122mm) and two assessed as tailfins of 120mm mortar rounds.
"The Ukrainian side of the Joint Centre for Control and Coordination (JCCC) says that the mentioned facts clearly indicate a violation of the Minsk agreements and the agreements, reached on July 22, 2020, on measures to strengthen the ceasefire regime," the JFO Headquarters noted.
ish