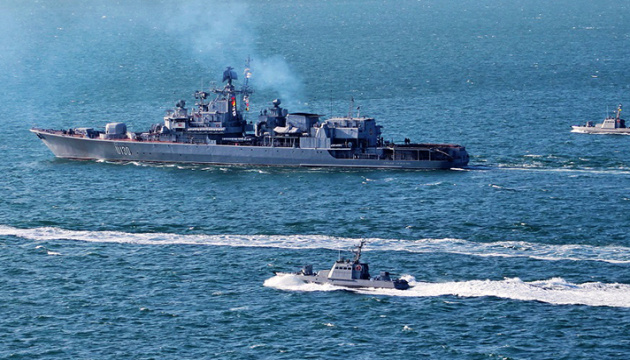 Eight countries taking part in 2020 Sea Breeze exercises
Commander of the Ukrainian Navy, Rear Admiral Oleksiy Neyizhpapa and U.S. 6th Fleet Commander, Vice Admiral Eugene Black have announced the start of 2020 Sea Breeze exercises with participation of eight countries.
The commanders made this statement during a telephone briefing held under the auspices of the U.S. Department of State's Brussels Media Hub, an Ukrinform correspondent reports.
"The main goal is to conduct an international naval security operation in the crisis area. The Black Sea has long ceased to be stable. Exercises such as Sea Breeze prove that the United States and NATO partners support peace and stability in the Black Sea region. I am very pleased that the Standing NATO Maritime Group traditionally participates in the Sea Breeze exercises. This underscores once again that NATO countries and partners support Ukraine's decision to join NATO," the Ukrainian commander said.
The sea is not an obstacle, but a way to communicate, so the task of all fleets is to make sea links easier and safer, he stressed.
"Not all countries understand these principles. This is especially true of the Russian Federation," Neyizhpapa added.
According to him, this year, the training period was reduced to seven days due to the coronavirus pandemic. The exercises involve eight countries: Ukraine, USA, Bulgaria, Romania, Georgia, Spain, Turkey, and Norway, with more than 20 ships and aircraft. Participants will conduct a series of tactical exercises, including anti-aircraft and anti-ship defense, as well as rescue at sea, which will increase the level of interaction and interoperability among sailors from different countries.
In turn, U.S. 6th Fleet Commander, Vice Admiral Eugene Black stressed that much attention during the Sea Breeze 2020 exercises was paid to ensuring the safety of the involved forces amidst the COVID-19 global pandemic, so all exercises will take place exclusively at sea and in the air.
ol