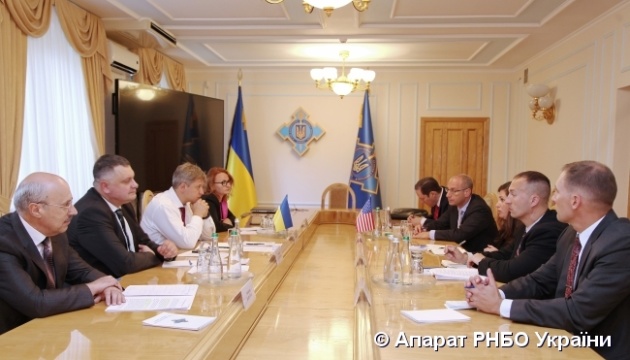 NSDC secretary meets with delegation of U.S. Department of Defense
Secretary of Ukraine's National Security and Defense Council (NSDC) Oleksandr Danyliuk met with a delegation of the United States Department of Defense under the chairmanship of Catherine Sendak, Deputy Director of the U.S. Department of Defense for the Balkans, Caucasus and Black Sea region, according to the NSDC's press service.
During the meeting, the sides discussed prospects of cooperation between Ukraine and the USA in the sectors of security and defense, in particular, in the development of the Armed Forces of Ukraine, cyber security, logistics, comprehensive review and preparation of strategic planning documents for the security sector. In addition, the parties agreed on the need to deepen cooperation in the preparation of Ukrainian military personnel.
Catherine Sendak assured the USA readiness to continue to provide comprehensive assistance to Ukraine on the path to implementation of defense reform.
At the same time, the Ukrainian side drew the attention of American partners to the active militarization of the Black Sea region by Russia.
The sides agreed that the situation in this region posed a threat to the security not only of Ukraine, but also of the Euro-Atlantic area as a whole.