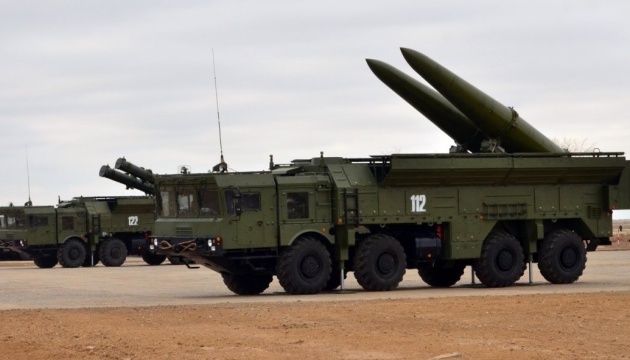 Russia doubles number of weapons in Crimea since 2014
The Russian Federation destroys the European arms control system and has significantly increased its military presence in Crimea, violating the Vienna Document 2011.
Andriy Hudz, the director of the Verification Department of the General Staff of the Armed Forces of Ukraine, said this at a briefing "Destruction of European Arms Control System by the Russian Federation," an Ukrinform correspondent reports.
"Compared to 2014, Russia has doubled its military presence on the Crimean peninsula. Along with the buildup of ground and aerospace elements, Russia poses a threat by deploying nuclear delivery vehicles, including Iskander missile systems and Kalibr-type sea-based cruise missiles with a range that may exceed the limits defined by the treaty to eliminate intermediate-range and shorter-range missiles," Hudz said. He also noted that the Russian Federation conceals the presence in Crimea of ​​more modern Yak-130, Mig-29, Su-30M aircraft and Mi-35M, Mi-24 helicopters, which are subject to reporting pursuant to the Vienna Document 2011.
The director of department also noted that the OSCE participating states are concerned about the unpredictability of Russia and its provocative military activities. "Of particular concern are the so-called 'gray zones' and 'frozen conflicts', where the existing mechanisms and tools for controlling military equipment do not work," he said. Hudz added that the representatives of Ukraine have repeatedly stressed at the OSCE Forum meetings the need for making Russia fulfill its international obligations.
The Vienna Document is an agreement between the OSCE participating states which was intended to implement confidence and security building measures.
ol