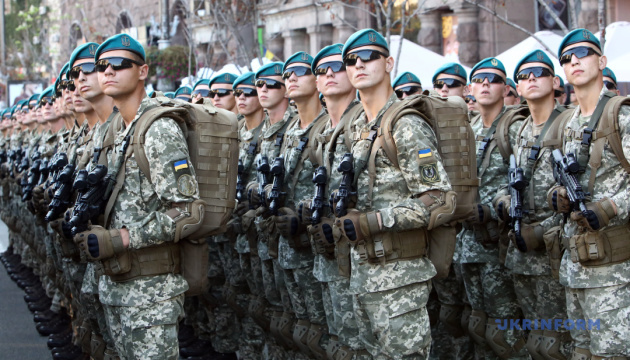 Ukraine marks Armed Forces Day
December 6, Ukraine marks the Armed Forces Day, which was established pursuant to the Verkhovna Rada's resolution No. 3528-XII of October 19, 1993.
December 6, 1991, the Verkhovna Rada of Ukraine adopted the laws "On the Armed Forces of Ukraine", "On the Defense of Ukraine", and on December 13 – the Concept of Defense and Buildup of the Armed Forces, which determined the basic principles and directions for the development of the Ukrainian army.
Ukraine inherited from the USSR one of the most powerful force groupings in Europe, equipped with nuclear weapons and relatively modern arms and military equipment. However, the Ukrainian army was almost destroyed over more than 20 years of independence.
For decades, the military personnel were downsized. Apart from the internal factors, Ukraine had to resist the pressure from the Russian Federation which in every possible way hindered the creation of the capable Ukrainian Armed Forces.
The new stage of development of the Armed Forces of Ukraine began after the Revolution of Dignity and start of the military operations in the east. Despite the total ruin in the army, corruption and losses, the Ukrainian military managed to defend the independence of the Motherland, protect people and restore the defensive capability of the Armed Forces.
The Ukrainian soldiers, who remained loyal to their oath, have become the face of a new Ukrainian army with unbroken spirit of courage, commemoration of the heroic past and forward-looking goals.
As President of Ukraine Petro Poroshenko said at the ceremony of awarding the military personnel on the occasion of the Armed Forces Day, the Ukrainian army enjoys the highest level of public trust among all the state institutions and is the guarantor of Ukraine's sovereignty and independence.
"The Armed Forces of Ukraine enjoy the highest level of trust among all the state institutions. Our Armed Forces are the achievement of soldiers and millions of Ukrainians who have done the incredible thing: they have built an army, perhaps one of the strongest in Europe, and have stopped the Russian aggressor in such a short time - in less than five years," Poroshenko stressed.
He added that the Armed Forces of Ukraine would further strengthen its combat capabilities as, among other things, the combat units would receive new and modernized weapons and equipment.
ol