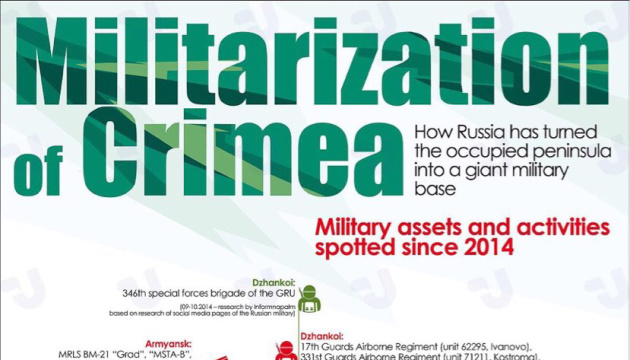 Militarization of Crimea. Infographics
The infographics shows how Russia militarized the occupied Crimea.
What excited some Crimeans about Russia coming to occupy Crimea back in spring 2014 was not only higher pensions and wages, but also a prospect of the peninsula becoming a popular tourist destination. Though not only Russian beach bums have been pouring into the peninsula since, but also enormous amounts of the Russian military. In four years, Crimea has turned into an "unsinkable aircraft carrier," a giant military base. The quantity of the "little green men" has risen to 32,000, the number of aircraft - to 122, military ships - to 71, long-range surface-to-air missile systems - to 16, and up to seven submarines are docked where there had been none. Furthermore, it is highly likely that Russian nuclear weapons have already been deployed to Crimea. Not only at the secret "Feodosia-13" object that has been reactivated in 2016, but also at Russian military ships.
Current infographics of Ukrinform summarizes data presented by Ukraine's Ministry of Foreign Affairs at UN hearings called "Militarization of Crimea" and results of OSINT research by the Ukrainian volunteer group InformNapalm from 2014 to 2018. It shows how Russia militarized a piece of Ukrainian land it occupied.