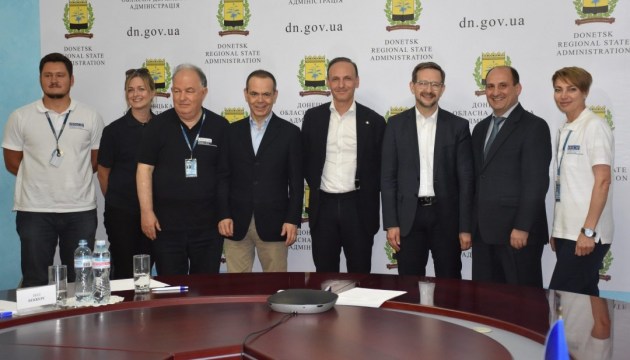 OSCE delegation in Kramatorsk discusses security situation in Donetsk region
In Kramatorsk, an OSCE delegation led by OSCE Secretary General Thomas Greminger discussed the situation in social and economic and security sectors in Donetsk region.
This is reported by the press service of the Donetsk Regional Military and Civil Administration.
"Acting Head of the Donetsk Regional State Administration Yevhen Vylynsky and Director of the Department for Investment and Innovation Development and External Relations Oksana Holovko held a working meeting with the OSCE delegation headed by OSCE Secretary General Thomas Greminger. The parties discussed social and economic and security situation in the region," the report reads.
During the meeting, the sides focused their attention on the security situation along the contact line in Donbas, the development of cities and districts and the social sector of the region.
Vylynsky noted that cooperation with the OSCE was very important for Donbas. "Thanks to your help, we are rebuilding schools, kindergartens, building hospitals, administrative centers and opening facilities for people with disabilities, repairing roads and buying new transports. Our efforts are aimed at restoring the infrastructure in the region so that its residents feel that they are part of Europe," he told the OSCE delegation.
In turn, the representatives of the OSCE delegation stressed that Donetsk Regional Administration made a lot to restore the region's activity, and they expressed hope for the soonest establishment of peace in Donbas.
ish