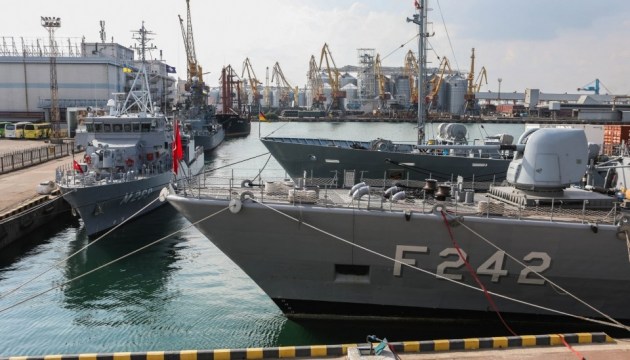 NATO can respond to Russian blockade of Azov Sea - Commander Boots
Commander of the Standing NATO Maritime Group 2 (SNMG2) Boudewijn Boots believes that Russian military build-up in the Black Sea after illegal annexation of Crimea has led to increased presence of NATO ships in the Black Sea region.
He said this at a press conference on Monday, July 23, on board HNLMS De Ruyter, the frigate of the Royal Netherlands Navy, an Ukrinform correspondent reported.
"We see a buildup in the military power of the Russian Federation in the Black Sea and a significant increase in Russia's military presence after illegal annexation of the Crimean peninsula, which in fact led to the decision of the NATO Warsaw Summit to increase our presence in the Black Sea region. So when they ask if there is a link between frequent visits by NATO ships in the Black Sea, we can say affirmatively - such a link exists," Boots said.
At the same time, the SNMG2 commander said that he was not aware of the deployment of NATO's standing forces in the Black Sea region.
When asked by an Ukrinform correspondent whether NATO will facilitate the restoration of shipping in the Azov Sea if Russia blocks the passage of merchant ships through the Kerch Strait, Boots said: "I understand the relevance of the question, but you ask the wrong people. We carry out military operations in accordance with instructions from the NATO command. Here we need a political decision of the alliance. I note that we represent a defensive organization and will act only when our ships are attacked," Boots said.
As reported, six ships of the Standing NATO Maritime Group 2 (SNMG2) and the Standing NATO Mine Countermeasures Group 2 (SNMCMG2) are on a friendly visit to Odesa. They include Royal Netherlands Navy frigate HNLMS De Ruyter, Turkish Navy frigate TCG Fatih, Romanian Navy frigate ROS Regele Ferdinand, the German Navy's auxiliary vessel Rhein, Turkish Navy minesweeper Anamur, and Romanian navy minesweeper Lupu Dinescu.
op