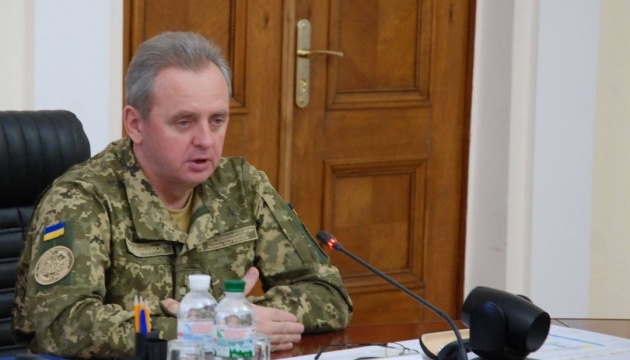 General Muzhenko signs order on decommunization in Ukrainian army
Chief of the General Staff of the Ukrainian Armed Forces Viktor Muzhenko has signed an order regulating the fulfillment by the commanders of all levels of management of the law on the condemnation of the communist and national-socialist (Nazi) totalitarian regimes in Ukraine.
He wrote about this on his Facebook page, having posted a copy of the document.
"On the assignment of the so-called honorary names to Russian army units. The Ukrainian army has its own military and historical traditions and Russia's actions in no way influence us. By their decisions, the Russians continue their longstanding tradition - to steal someone else's history and glory. This is the marking of the territory and the sounding of claims on the land of other peoples, to which Russia has no relation," Muzhenko wrote.
He said that "it is a clear signal to us and to the world that the aggressor is not going to stop in Donbas and Crimea." "It is also aimed at mobilizing pro-Russian forces on the territory of Ukraine," he added.
"The traditions of the modern Russian army are a strange mix of Russian imperial and Soviet myths. For the Ukrainian Armed Forces the awareness of this was the year 2014 when each of us made a choice," Muzhenko said.
Earlier, Russian President Vladimir Putin signed decrees to add names of certain Ukrainian cities, in particular Lviv, Nizhyn and Zhytomyr, to the "honorary names" of certain regiments and divisions of the Russian army.
The decrees say that the honorary names have been assigned to various military units "in order to preserve glorious military historic traditions, educate the servicemen in the spirit of devotion to the Fatherland and fidelity to military duty."
Thus, the 6th tank regiment of the Russian army is now bearing the honorary title of the "Lviv Guards," the 68th tank regiment of the "Zhytomyr-Berlin Guards," and the 163rd tank regiment of the "Nizhyn Guards."
op