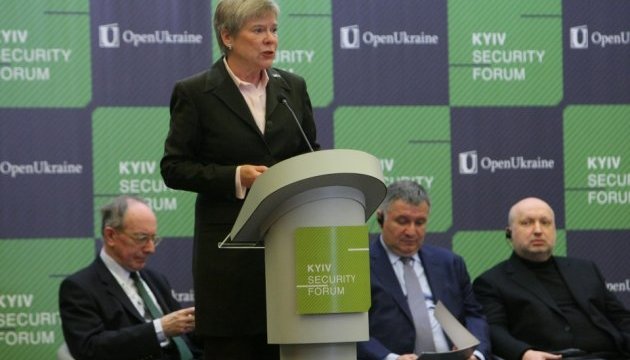 NATO wants to adopt Ukraine's experience of countering hybrid aggression
NATO highly appreciates Ukraine's actions in confronting Russian hybrid aggression and wants to adopt its experience and best practices.
NATO Deputy Secretary General Rose Gottemoeller said this at the 11th Kyiv Security Forum, organized by Arseniy Yatsenyuk's The Open Ukraine Foundation, an Ukrinform correspondent reports.
"The fog of war has clouded because of Russia's use of hybrid or (as we sometimes call them) the asymmetric, techniques. That has created a fog of neither peace nor war but of constant crisis and destabilization and hot conflict on Donbas. Cyber attacks, disinformation, election interference, the use of nerve agents – every day these dangers confront us now with the goal of sowing disunity and breaking resolve. No one knows this better than Ukraine, who has been battling these techniques non-stop for the past four years. I know Ukraine has learned a lot about how to fight back. Ukraine has been vaccinated against disinformation, prepared with the right antibodies to fight back. NATO is looking forward to learning from Ukraine's experience," the NATO Deputy Secretary General said.
She recalled that the joint NATO-Ukraine Commission hybrid warfare platform focused on countering hybrid warfare had been formed.
"This is a very important element of how NATO can learn from Ukraine's experiences and best practices that you have put in place," Rose Gottemoeller said, noting that NATO has done a lot to reform its intelligence organizations to focus on cyber threats.
ol