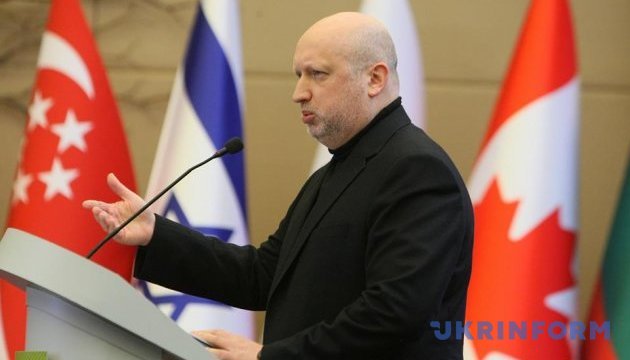 Russia deploys 30,000 troops in Crimea, Iskander missile systems near border with Ukraine
Russia builds up its military power in Crimea and Donbas.
Ukraine's National Security and Defense Council Secretary Oleksandr Turchynov said this at the 11th Kyiv Security Forum, organized by Arseniy Yatsenyuk's The Open Ukraine Foundation, an Ukrinform correspondent reports.
"Russia builds up its military power in Crimea, doing this not only to protect its presence," Turchynov said.
He noted, in particular, that the 22nd army corps along with other units of the Black Sea Fleet and the Air Force division of the Russian Federation are currently deployed in Crimea. The total number of military personnel is over 30,000 people.
According to Turchynov, powerful missile systems are located on the peninsula, in particular, S-400 surface-to-air missile system, which can hit planes anywhere in Ukraine, was recently delivered there.
Turchynov also added that Russia had placed four missile brigades armed with the Iskander missile systems, capable of hitting targets at a distance of up to 2,500 kilometers, near the Ukrainian border.
According to the National Security and Defense Secretary of Ukraine, this is the evidence of Russia's ostentatious withdrawal from the Treaty on the Elimination of Intermediate-Range and Shorter-Range Missiles.
"Not only Ukraine is in danger. Russia's withdrawal from this agreement puts all the European countries in jeopardy, since a missile could reach a target in some minutes, not hours," he said.
ol