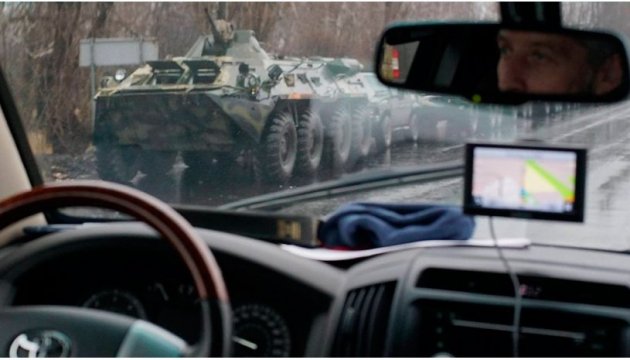 OSCE records non-withdrawn military hardware, new positions of militants
The OSCE Special Monitoring Mission (OSCE SMM) has recorded new military-type positions of militants in the territory of Luhansk region beyond Ukraine's control, according to a report by the OSCE mission.
"In non-government-controlled areas, the SMM saw about ten unarmed 'LPR' members unloading wooden logs from a military-type truck near military-type positions, observed for the first time, about 300m west of Kalynove-Borshchuvate (61km west of Luhansk)," the report says.
SMM monitors revisited a "DPR" permanent weapons storage site whose location corresponded with the respective withdrawal lines.
"[The mission] noted that seven tanks (five T-64s and two T-72s) were again missing," the OSCE said.
In violation of withdrawal lines, in areas outside of government control, aerial imagery revealed the presence on January 11 of an artillery piece (type undetermined) being towed by a probable armored personnel carrier (APC) (MT-LB) near a compound in Novozarivka (47km south-east of Donetsk), the mission said.
"On January 12, the SMM saw a surface-to-air missile system (9K33 Osa) travelling west near Khreshchatytske (formerly Krasnoarmiiske, 33km north-east of Mariupol)," the statement reads.
"Both violations occurred in a zone within which deployment of heavy armaments and military equipment is further proscribed according to Point 5 of the Memorandum of September 19, 2014," the OSCE said.
The SMM also saw two tanks (T-64) on flatbed trailers heading north-east 1km east of Haiove (14km west of Luhansk).
op