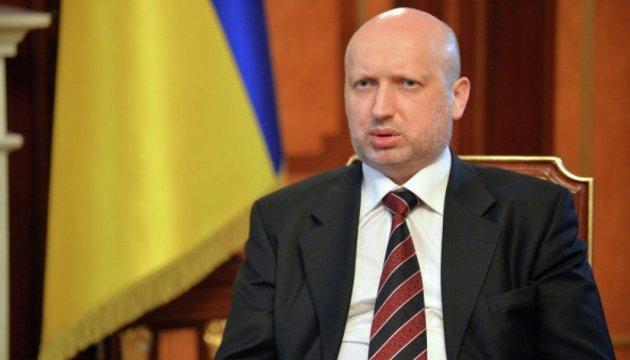 Turchynov: Russian military testing new weapons and drones amid provocations in Donbas
The National Security and Defense Council's (NSDC) report is citing Turchynov as saying that the mortar system KM-8 Gran is designed to destroy single and group targets, armored vehicles and fortifications from hitting them with the first salvo without any additional target corrections.
"The system uses a 120-mm guided mine (length 1200 mm, weight -27 kg), which is equipped with a laser homing head," said Turchynov while explaining that a system of automated fire control Malachite with an installed laser rangefinder and a sight with a heat sensor) allows to open accurate fire in complicated conditions of a rough terrain."
In addition, according to the press center' report, new attacking UAV "Inspector – 601" is being used which is designed to perform strike, reconnaissance and special missions, as well as a complex of electronic warfare Shypovnyk-Aero and multifunctional complex EW "RTUT-BM along with laser positioning devices and laser devices for counter optic – electronic measures of the latest generation.
"It was also proved that the Russian occupation troops have used ammunition with enhanced combat characteristics banned by international conventions," the press center has noted, specifying that they were howitzer 122-mm shells "Lepestok 2" with arrow-shaped striking elements with a damage zone for troops reaching 500 meters.
According to Turchynov, testing of new weapons systems takes place amid the increasing number of attacks and violation of the Minsk agreements by the militants.
tl