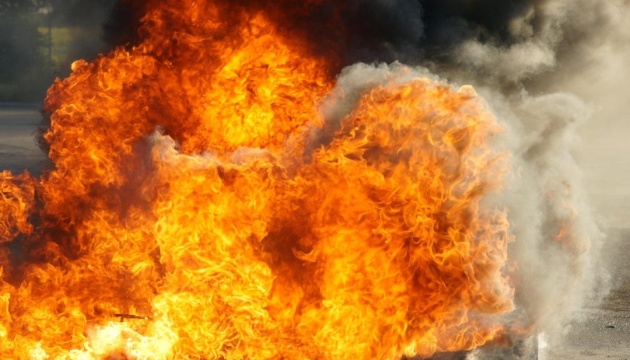 Exposed: Russian intelligence bosses behind blasts at army depots in Ukraine, Czechia
Ukrainian law enforcers have evidence of the involvement of Russian intelligence agencies in the 2014 explosions at military warehouses in the Czech Republic, where Ukraine-bound weapons were stored, as well as ammo depots in Svatove, Luhansk region, in 2015.
This was reported at a press conference by the advisor to the Director of the State Bureau of Investigations, Tetiana Sapian, Security Service spokesman Artem Dekhtyarenko, and press officer for the Prosecutor General's Office Suzanna Savchuk, according to Ukrinform.
As Sapian noted, Ukrainian law enforcement officials have pressed charges against the former head of Russia's defense intelligence Igor Sergun (who headed the agency until 2016), Putin's ex-bodyguard Aleksey Diumin, who from 2013 to 2015 held the position of chief of GRU's special operations forces; Commander of the Russian Army SOF Major General Valeriy Flustikov; and Commander of the GRU 161st Center for the Training of Special Operations Specialists Major General Andrey Averyanov.
The adviser to the SBI chief noted that General Averyanov is now part of Putin's close entourage and is often present at official meetings at the highest level.
More than 25 direct organizers and executors of the acts of sabotage, who belong to the Russian special services, were also charged. Among them are Anatoliy Chepiga and Aleksandr Mishkin, who are suspected of being involved in the poisoning of the Skripal family in UK's Salisbury.
The accomplices of Russian intelligence operatives from among Ukrainian nationals have also been identified and charged.
"One of them directly controlled the UAV, which dropped explosives on Svatove. He is a citizen of Ukraine with the call sign "Start", who in 2014 joined the 'Luhansk People's Republic' terrorist organization before starting working for the Russian special services, Sapian informed.
According to the official, after the completion of all forensic examinations, more than 50 GRU operatives, involved in the acts of sabotage in Ukraine and the EU are yet to be charged.
"We will definitely provide the EU and other partner law enforcement agencies with information about all identified GRU operatives in order to check whether they are now on the territory of these countries, plotting more sabotage stunts," Sapian added.
She noted that during a joint investigation with the Czech law enforcement, the SBI established that it was Russian saboteurs who blew up military warehouses in the Czech Republic in 2014. Mishkin and Chepiga played an important role in that operation.
According to a similar scheme, on October 29, 2015, an act of sabotage was also executed at the military warehouse in Svatove, where an explosion caused a fire, leading to a mass detonation of munitions stocks that also affected military equipment. A significant amount of military equipment (76 units), missiles and ammunition (more than 3,000 tonnes) was destroyed. The state suffered losses of over UAH 71 million. Three servicemen and a civilian were killed.
"The version regarding the involvement of this GRU group in explosions at other military depots in Ukraine and abroad is currently being worked out. Today, it is already possible to state with a high degree of probability that the majority of the explosions at Ukrainian and foreign warehouses were caused by these GRU units and their accomplices," said the advisor.
Law enforcers are now establishing the possible involvement of this group in explosions at other Ukrainian and foreign ammunition depots.
As reported, in 2015, a fire broke out in a warehouse where ammunition was stored in Svatove, Luhansk region.
In the following years, other explosions occurred at several ammunition depots. In particular, in March 2017, a depot caught ablaze in the town of Balaklia, Kharkiv region. In September 2017, a similar incident was repored in Kalynivka, Vinnytsia region. In October 2018, explosions occurred in the town of Ichnia, Chernihiv region. In all cases, sabotage was named as the cause of the explosions.