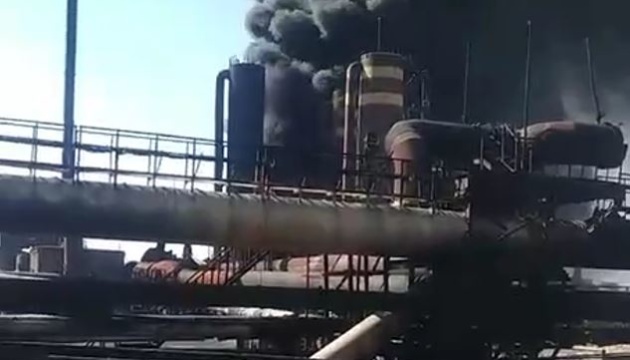 Naphtalene stocks ablaze as Russian bombs hit Avdiivka coke chemical plant
In Donetsk region, the Russian invaders bombed the Avdiivka coke plant, where the remaining stocks of naphthalene are on fire.
That's according to MP Musa Magomedov, the former CEO of the plant who lived in Adviivka, Ukrinform reports.
"The 'peacemakers'...continue to destroy the industry of Donbas. These monsters just hit the ACCP with air bombs and now the scrubbers of the trapping workshop are on fire," Magomedov wrote on Telegram, uploading the video of the blaze.
He assumed that the invaders will again lie that "they hit an ammunition depot (munitions - ed.), which in fact was never set up on the plant's premises."
Vitaliy Barabash of the Avdiivka City Military Administration specified that one of the enemy missiles hit the naphthalene storage warehouse where the remaining stock is currently on fire, Suspilne Donbas reports. According to Barabash, no casualties were reported.
Donetsk region and in particular the city of Avdiivka are constantly subjected to Russian strikes as the enemy keeps killing and maiming civilians, obliterating residential blocks and administrative buildings, industrial enterprises and civil infrastructure across the region.