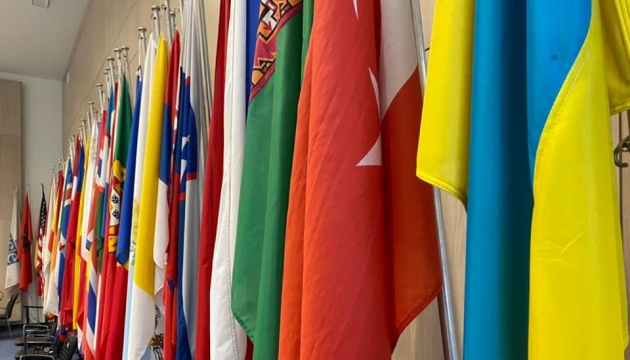 Ukraine calls on OSCE to probe calls for genocide in Russian media
Ukraine has called on the OSCE Representative on Media Freedom, Teresa Ribeiro, to contribute to the UN Commission's investigation into the calls seen across Russian media constituting incitement to the genocide of Ukrainians.
This was stated by Ukraine's Permanent Representative to international organizations in Vienna, Yevhenii Tsymbaliuk, who spoke at the regular meeting of the OSCE Permanent Council on Thursday, an Ukrinform correspondent reports.
"There is another concern of the Commission: the rhetoric transmitted in Russian state and other media may be incitement to genocide. This is what, namely, russia's dehumanization campaigns, was repeatedly raised in the Council by Ukraine and other participating States, including last Thursday, We believe that the RFoM within her mandate could make a valuable contribution to the investigation conducted by the UN Commission," he said.
Ukraine's representative emphasized that this incitement to genocide shows that "Russia aims to commit further crimes unless it is stopped."
Tsymbaliuk also recalled that the latest report by the Independent International Commission of Inquiry on Ukraine refers to continuous evidence of torture, sexual and gender-based violence.
"Gross violations of human rights have become another weapon of russia against the civilians," stressed the diplomat.
"While the russian diplomats cynically call for a professional dialogue without emotions within the OSCE, russian soldiers without emotions torturing civilians to death in the occupied territories. The same goes about rape and sexual violence committed by russians. Frequently, as confirmed by the Commission, family members were kept in an adjacent room, thereby forced to hear the violations taking place. Isn't this torture? And, contrary to the russian diplomats, victims of sexual violence do not have such a privilege to make a procedural reservation," Tsymbaliuk noted.
The Ukrainian ambassador also condemned Russia's attempts to cover up its own crimes under the fake pretext of "fighting neo-Nazism" and employing historical manipulation. According to him, incitement to genocide and a campaign of dehumanization, run by Russia, references to "historical lands" and "one people", elimination of dissenters and suppression of protest, abduction and deportation of children, re-education and filtration, mass graves and torture of civilians, and division of people into "ours and not ours" are all clear evidence of "a plague that we all thought was in the past."
"And this plague is in the Russian house," he added.
As Ukrinform reported earlier, on September 25, the Independent International Commission of Inquiry on Ukraine stated that some statements in Russian government-owned and other mass media could constitute the crime of incitement to genocide.
The Commission also expressed concern over further numerous evidence of war crimes committed by the Russian armed forces in Ukraine. In addition, the inquiries into possible crimes against humanity are underway.