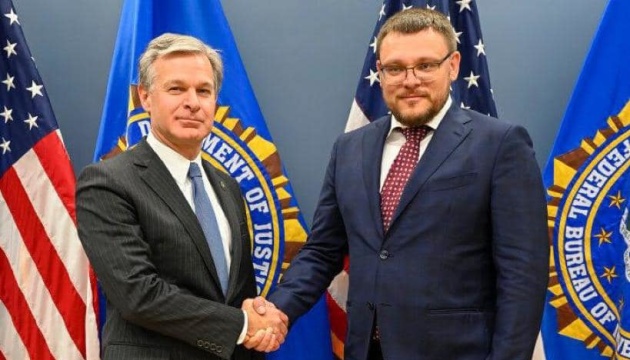 NABU, FBI sign memo on deepening cooperation
The National Anti-corruption Bureau of Ukraine and the Federal Bureau of Investigation signed a memorandum on deepening cooperation in combating money laundering and investigating corruption-related crimes
NABU reported this on Facebook, Ukrinform saw.
"The National Anti-corruption Bureau of Ukraine and the Federal Bureau of Investigation of the United States will deepen cooperation in the investigation of corruption crimes, combating money laundering, as well as asset recovery. The corresponding intentions are laid down in the Memorandum of Understanding between NABU and the FBI, which was signed on August 31, 2023," says the report.
As noted by NABU, the memorandum is a continuation of long-term cooperation – since 2016, the bureaus have been cooperating effectively and in-depth.
Within the framework of the signed agreement, the parties will exchange information, conduct training and implement joint efforts in the field of corruption inquiries.
NABU Director Semen Kryvonos thanked his American counterparts for their long-term support.
"Currently, the issue of effective cooperation is more relevant than ever in the context of the country's post-war recovery and the need to monitor the funds allocated to this end," he emphasized.
It is noted that thanks to cooperation with the FBI, NABU operatives had the opportunity to undergo a number of trainings, as well as receive the equipment necessary for effective investigations.
As Ukrinform reported earlier, in May, NABU detectives kicked off training on identifying funds that corrupt officials try to hide via cryptocurrency. The course will last until January 2024.
Photo: NABU