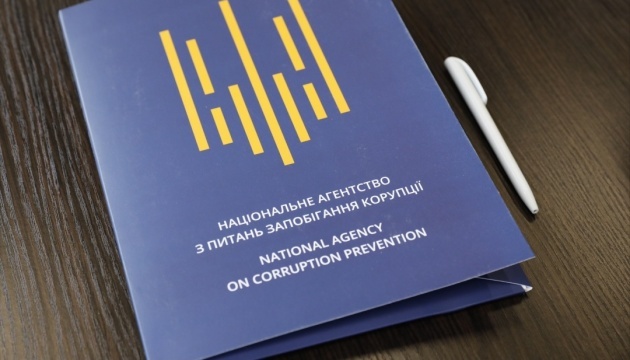 Ukraine's anti-graft watchdog to launch site for whistleblowers
The National Agency on Corruption Prevention (NACP) intends to launch in early September a special portal where whistleblowers will be able to anonymously report corruption.
Oleksandr Novikov, the head of the NACP, reported this on the air of the national telethon, Ukrinform saw.
"In September, we hope, in the early days, the National Agency will launch the whistleblower portal. This is a special platform that will ensure anonymous reporting by the employees from various organizations on the facts of corruption in their organizations to be dealt with by the heads of organizations or those authorized to prevent corruption, as well as to special bodies - NABU, SBI, the National Agency, and the National Police," he said.
The head of the NACP added that this will provide an opportunity for anonymous whistleblowers to receive 10% of the sum involved in the corruption offense after the court's ruling.
Novikov assures that the portal will be the most modern one as it takes into account EU recommendations and the experience of other countries in building up cooperation with whistleblowers.
"The culture of whistleblowing is very important because without responsible citizens, whistleblowers, we will not build zero tolerance for corruption," he emphasized.
At the same time, Novikov noted that there is currently a case probed by the High Anti-Corruption Court, in which the NACP expects to see a verdict, after which the first reward in Ukraine's history will be paid to a whistleblower.
He recalled that the reward is limited by law to 10% of the subject of the proceedings, but cannot exceed UAH 14 million.
The head of the NACP added that in the case that is currently being heard by the HACC, the amount of the reward in question should be the maximum one.
As reported, on January 1, 2020, the law on amendments to the law of Ukraine on prevention of corruption regarding whistleblowers came into force.