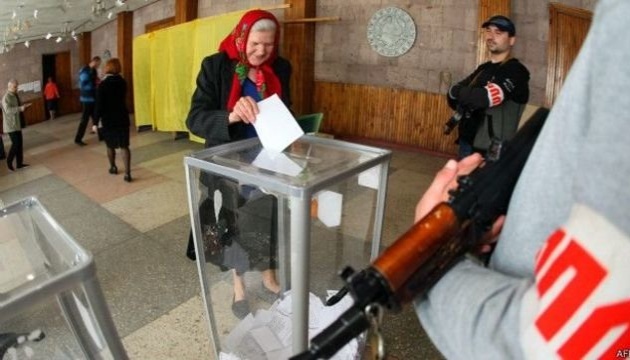 SBU presses charges against two organizers of sham referendum in Luhansk region
The Security Service of Ukraine exposed two more enemy collaborators in Luhansk region, who contributed to Russia's occupation of Ukrainian territories through taking part in the organization of a pseudo-referendum.
That's according to the SBU press service, Ukrinform reports.
"It has been established that a resident of Luhansk, who until 2014 had repeatedly participated in the operations of election commissions, in September 2022 agreed to be appointed as head of the Zhovtneva Territorial Election Commission of the city of Luhansk," the statement reads.
It is noted that, under the supervision of the Russian occupation administration, the suspect headed the process of a staged "vote" on the territory of the largest district of the temporarily occupied regional center.
Also, the SBU charged a resident of Kreminna, a former journalist, who was involved in the organization of the "referendum" as a "member of the precinct election commission". She compiled lists of voters, issued and counted ballots, prepared voting protocols, etc.
Both persons were charged under two articles of the Criminal Code: Art. 110 Part 2 (Encroachment on the territorial integrity and inviolability of Ukraine) and Art. 111-1 Part 5 (Collaborative activity).
The suspects face up to 10 years in prison time.
As Ukrinform reported earlier, "LPR" militants were recently sentenced to 12 years behind bars on charges of fighting against Ukraine's forces since the outset of Russian aggression.