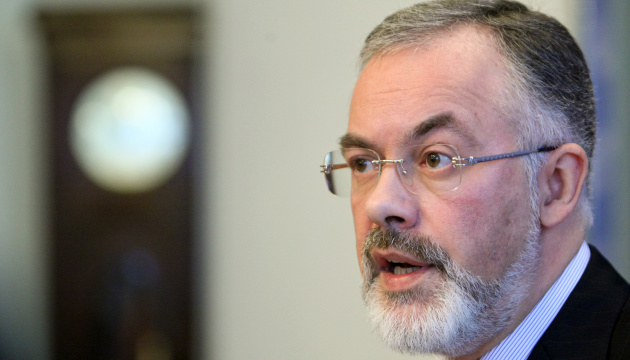 SBU says ex-education minister Tabachnyk's property worth over $2M seized
According to the materials of the investigators of the Security Service of Ukraine (SBU), the property of the former Minister of Education and Science of Ukraine, Dmytro Tabachnyk, who is suspected of treason, has been seized.
The SBU said this on its Telegram channel, Ukrinform reports.
"The total amount of seized assets is more than $2 million. This primarily includes real estate, land plots and money in foreign currency," the report said.
In order to "hide" his wealth from possible confiscation in favor of the state, the ex-minister "transferred" it to his relatives in advance.
The SBU exposed this scheme and obtained court permission to seize the ex-minister's assets.
Among those assets are half an apartment in the historical part of Kyiv with an area of 126 square meters, a more than 600-square-meter residential building, five plots of land in an elite cottage town near the Ukrainian capital with a total area of almost a hectare, and a bank account for $147,000.
In November 2022, Tabachnyk was charged with treason. According to the investigation, he helped collaborators in the occupied areas of the Kherson and Zaporizhzhia regions.
According to the investigation, Tabachnyk coordinated the activities of Volodymyr Saldo and Yevhen Balytskyi, Russian collaborators of the temporarily occupied territories of the Kherson and Zaporizhzhia regions, with Russia's Deputy Minister of Health Andrei Plutnitsky. According to the prosecutors, Tabachnyk acted as a representative of the highest authorities of the Russian Federation and helped the occupiers in the field of health care in the occupied territories.
The former minister was charged with treason under martial law (Part 2 of Article 111 of the Criminal Code of Ukraine). He faces at least 15 years in prison or life imprisonment with confiscation of property.
From March 11, 2010 to February 23, 2014, Tabachnyk held the position of Minister of Education and Science of Ukraine, when he made a number of scandalous statements. In particular, he spoke about the necessity of knowledge of Russian literature. Journalists also found out there were cases of money laundering at the Ministry of Education and Science under Tabachnyk.