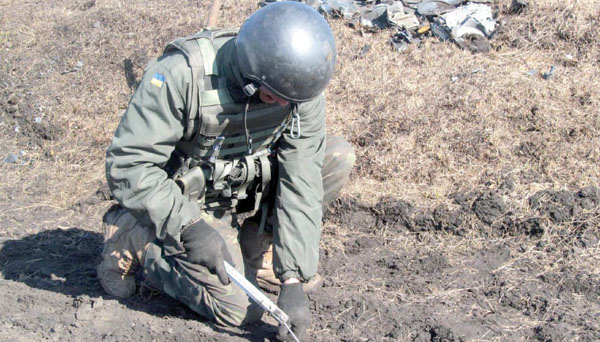 In 2021, almost 500 explosive devices discovered in eastern Ukraine - SBU
As part of comprehensive measures to prevent and neutralize the threats of Russia's intelligence and sabotage activity against the state security of Ukraine, the SBU security agency in 2021 discovered more than 40 arms caches planted by enemy forces in the zone of ​​the Joint Forces Operation.
That's according to the SBU press office, Ukrinform reports.
It is noted that anti-tank mines, grenades, almost 500 explosive devices, and more than 300 kg worth of TNT were seized from the caches.
According to an ongoing inquiry, the caches were set up by members of illegal armed groups, the so-called "LPR/DPR". On the instructions of their handlers, the perpetrators had been plotting acts of sabotage in the country's east.
According to the SBU, a female member of the intelligence network set up by the Russian special services was sentenced to eight years in prison. The culprit was involved in preparing a series of explosions in the Joint Forces Operation zone.
Also, an enemy asset was detained in Donetsk region as he was attempting to set up a cache with explosives.
In September this year, the SBU discovered two arms caches set up by militants in Donetsk and Luhansk regions. Almost 40 kg of TNT, a large number of anti-tank and anti-personnel mines, munitions for anti-aircraft guns and large-caliber machine guns were seized from the site.
In Luhansk region, law enforcers retrieved from a cache set up in the underground storage of the former household of the so-called "First Deputy Prime Minister of the LPR" in the village of Bobrove two anti-tank rocket-propelled grenades, 20 RGD-5 grenades with fuses, as well as almost 4,500 rounds of ammunition of various calibers.
Also in Donetsk region, SBU operatives located a cache set up by a sniper of the so-called "Vostok" battalion. The hideout was discovered at the premises of an estate in Pokrovsky district. During the search, a Kalashnikov assault rifle with two magazines, more than half a kilo of TNT, three electric detonators, two grenade launchers, two RGD-5 grenades with incendiaries, more than 2,500 rounds of ammunition of various calibers, five smoke grenades, and 23 remote-action propelled lighting cartridges were retrieved.
The SBU press office noted that comprehensive measures are underway to identify and prosecute all persons complicit in crimes against Ukraine's state security.
As Ukrinform reported, in July 2021, the SBU units in Zaporizhia and Odesa regions reported on the discovery of four caches with explosives, one of which was set up by militants to commit acts of sabotage.
im