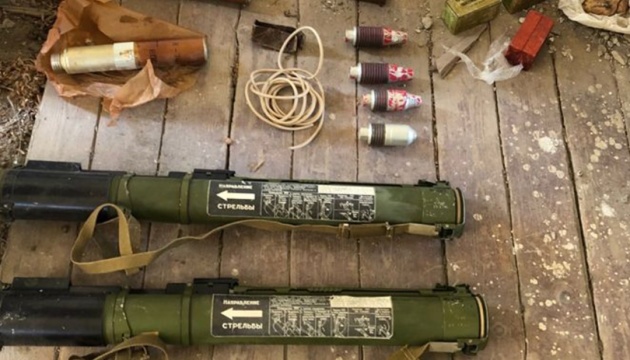 SBU discovers cache with explosives, anti-tank grenades in Zakarpattia
Operatives with the Security Service of Ukraine (SBU) have revealed in Zakarpattia region a cache packed with explosives and ammo.
The cache was discovered in an area close to the state border, according to the SBU press service, Ukrinform reports.
"The cache was set up in an abandoned building in one of the villages of Berehove district.
During the investigation, security operatives identified and eventually apprehended a culprit who had been involved in setting up the cache.
It has been established that the detainee is one of the organizers of a criminal group engaged in the illegal arms sale," the statement reads.
During the search, SBU operatives discovered almost 2 kilos of TNT; 400 grams of C4; ten fuses, three anti-tank grenades; four VOG-25 shells for grenade launchers; as well as 39 RGD-5 and F-1 grenades.
Currently, the seized means of destruction have been sent for forensic examination. Law enforcers are yet to formally file charges the court is to rule on whether to hold the suspect in custody.
A pre-trial inquiry is underway to establish all circumstances of the offense and bring to justice other complicit persons, the press service said.
As Ukrinform reported, on August 20, the SBU discovered a network of caches filled with explosives and ammunition in three regions across Ukraine – Kyiv, Mykolaiv, and Luhansk.
im